Theme: DUPLO
No: 10929
Release Year: 2020
Cost: AU $99.99
Pieces: 129 (with three minifigures)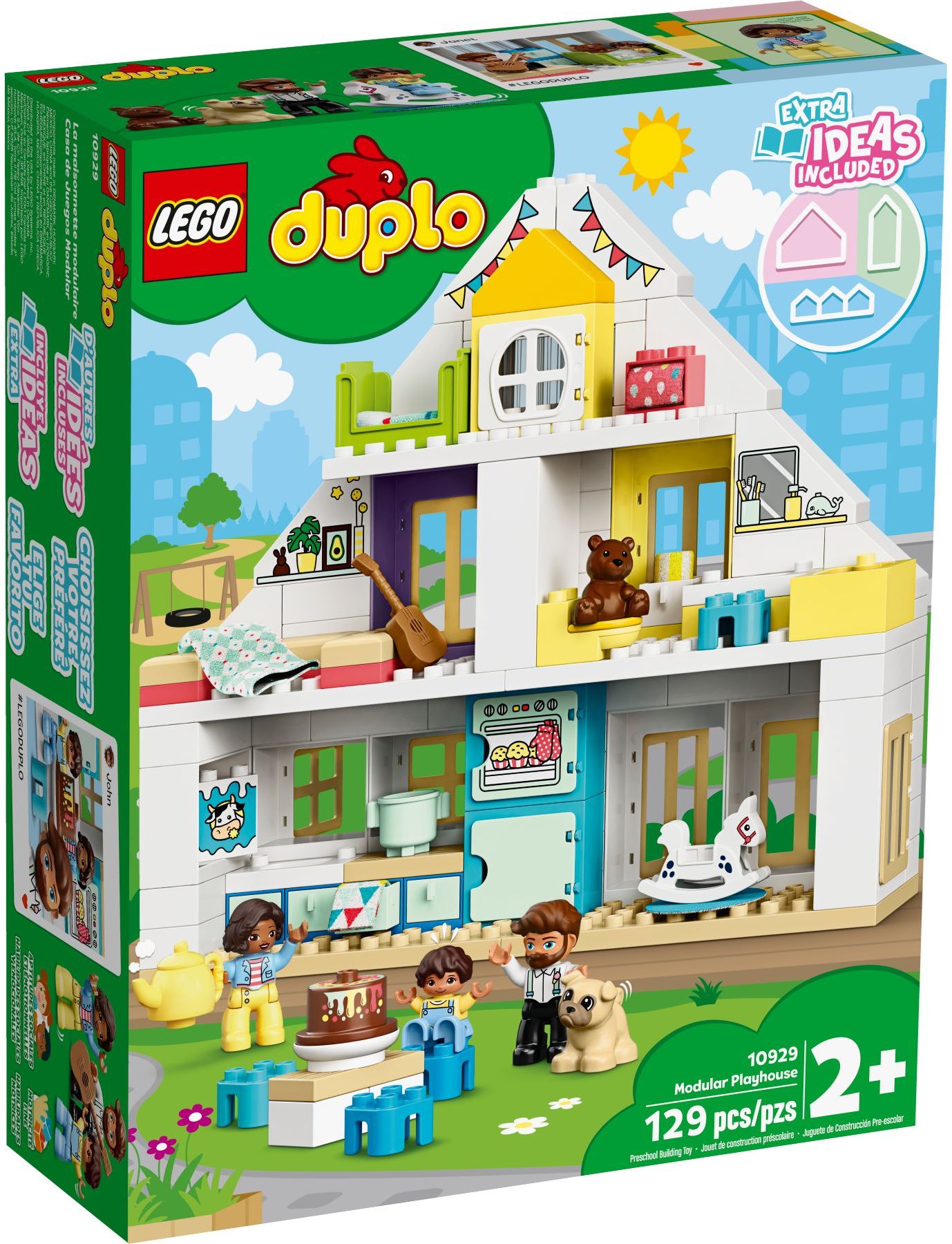 Time for something a little different. I was browsing the LEGO Shop a while back and found 10929 Modular Playhouse. It looked like a fantastic set, and I thought I'd be able to do a review with my 3 year old daughter's assistance!
It arrived and Indiana was ridiculously excited. She wanted to get into it straight away, but we decided to wait. Over the weekend we got stuck in. There's a fair bit in the box – four bags of white 2×4 bricks, window frames in two sizes and multiple colours, printed white roof wedges, 6×12 plates in white and tan and a bunch more bags of parts. There's also a small collection of fabric items in a separate bag.
The figures include a very dapper looking man with a beard, a woman yellow pants, red and white striped top and blue jacket, and a child in light blue overalls and yellow top. There's also a great looking dog and a rocking horse.
For a 3 year old the instructions are a bit much to figure out, but with a helpful Dad pointing where things should go, it went pretty smoothly. She also wanted to build in the LEGO room, so no nice photos this time! This one is a bit more raw.
The large bricks and simple construction are brilliant for tiny hands, but we all knew that – it's DUPLO. That's the whole point. As a set then, it's a beauty. My daughter absolutely loved building the set. It's clean and colourful with a superb amount of play, especially for someone like my daughter who loves dolls and dolls houses just as much as DUPLO and LEGO.
The large parts often mean a lack in detail, but there's a few elements in particular that I think really take this set to another level. The first one is in the bottom floor, with the kitchen and meals area. The fridge and sink are good, but the favourite on this floor is the bench top and table top. Made with the same element, the subtle wood texture on this plate (I guess you call it a tile in DUPLO too?) is beautiful.
There's also a beauty of a dark tan cushion on the second floor. The other rooms include a very cramped bathroom and a small bedroom at the very top.
The printed bricks include some fantastic detail that isn't possible to replicate in DUPLO. It's subtle, but are nice inclusions.
There's also two other builds you can do – Indi didn't want to build the others, so we stuck with the A model, but the others look like a lot of fun to build, and make use of some printed elements that aren't completely seen in the A model. There's a tall four storey structure, and a series of three separate single storey builds.
After a fun build process with a very excited little girl, it was played with for a solid hour before being dismantled and swiftly built into something different. There's a great range of parts perfect for endless house layouts and a massive imagination. For little kids this is a stellar set and should definitely be picked up.
A special thank you to LEGO for sending me a copy to review. All thoughts on this set are my own and are not influenced in any way, shape or form. The provision of sets for review does not guarantee a favourable review.