Theme: Classic
No: 11021
Release Year: 2022
Cost: AU $79.99
Pieces: 1100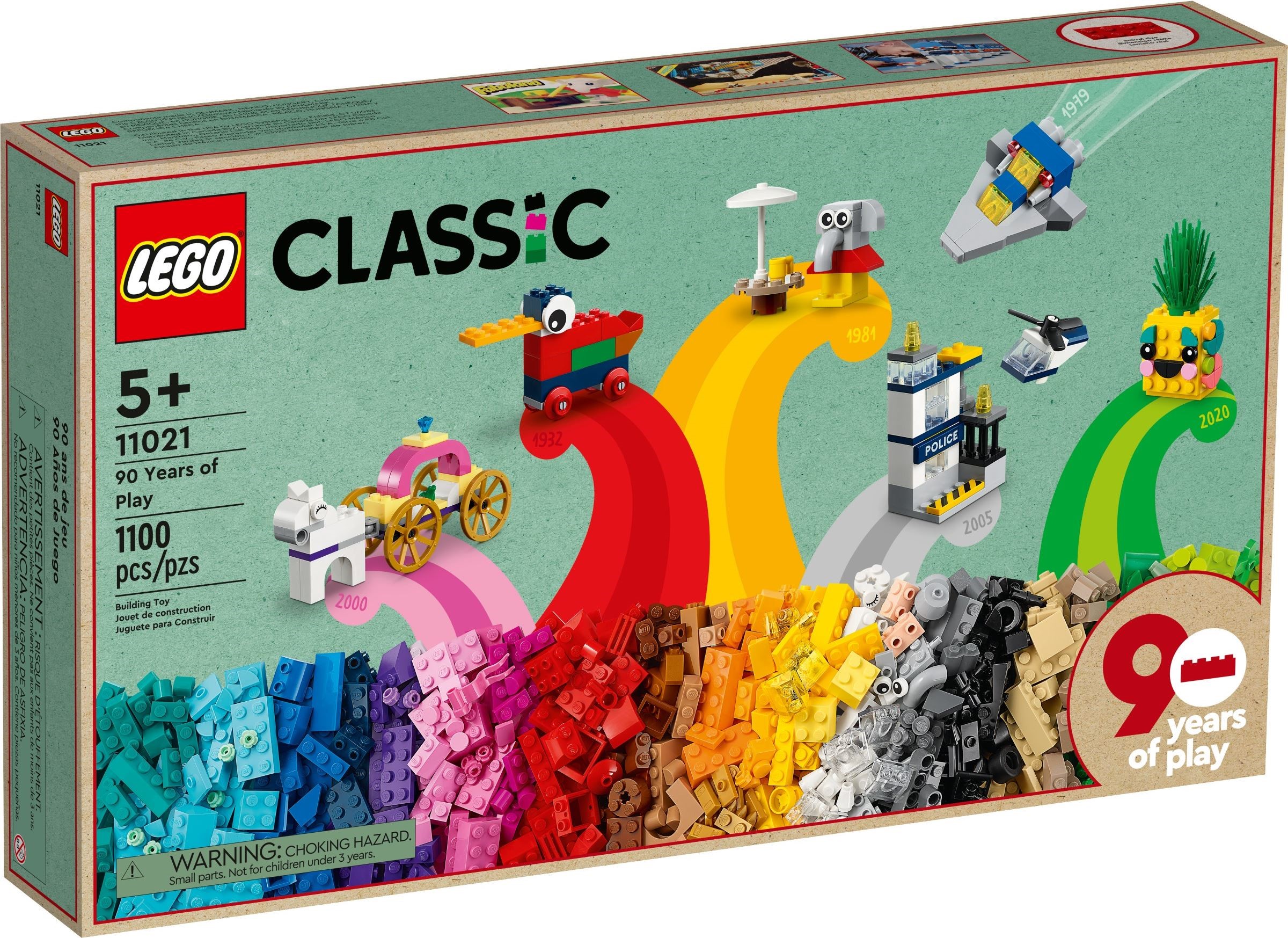 It's the big year! LEGO is celebrating a whopping 90 years of awesomeness in selling toys. There's going to be more exciting releases later in the year, but this is a fantastic way to start it. Classic sets are great at encouraging kids (as they're who these sets are aimed at) to just play and create amazing things. I had a helper with this one, with my almost 5 year old daughter. She's always keen to help out with building, and has an absolute ball with most sets, but this one was special. Little builds that she could do all by herself! These little builds are 15 small versions of classic sets released since way back in 1932. I had a ball talking to her about all the different sets, and it was great to see she recognised a few of the more recent ones too.
In addition to the six numbered bags that contain the parts for the mini builds, there are five un-numbered bags that have other assorted parts grouped by colour. She was ecstatic when she found out they'd be added to her growing collection! There are two identical instruction booklets that are for the builds, so let's get stuck in.
1932: Duck
The ultimate icon in old school LEGO, the wooden duck looks great! The large eyes are very comical.
1961: Town Plan
The earliest sets to include the patented bricks, and made by the Samsonite Corporation, this tiny house and car are brilliantly simple.
1966: 113 Motorized Train Set
A train I've heard so much about but never seen, and one that had the 4.5 volt power system.
1978: 375 Castle
Such a historic set and one I'd love to have in my collection! I love that the tower tops are using the 2×2 boxes for crenellations. So good!
1979: 497 Galaxy Explorer
Easily one of the most iconic Classic Space sets, this was my favourite of the whole lot. It looks brilliant built entirely with SNOT. So much fun to fly around the room!
1981: 3601 Elton Elephant
My daughter's favourite one of an adorable Fabuland set! I even found my Elton and showed her – she was blown away.
1989: 6285 Black Seas Barracuda
On to Pirates! This is a seriously blocky version of the Barracuda. Wow.
1998: 5978 Sphinx Secret Surprise
This one is hilarious, mainly because of the way my daughter did the eyes! I love the printed pillar and the inclusion of the ruby!
2000: 5827 Royal Coach
Brilliant that the horse looks like it's singing, and the prince is a frog!
2001: 8534 Tahu
Not sure about this one. I see the similarities, and I realise that Bionicle needed to be included, but there's a lot lost in translation.
2005: 7237 Police Station
This was a brilliant one. Love it!
2010: 8043 Motorized Excavator
Clever! I like it. Playable too.
2013: 70503 The Golden Dragon
The blockiness is a little out there, and the feet are funny looking, but I do like it.
2017: 41340 Friendship House
Actually from 2018 (LEGO did another oops), this is another clever build. Very nice work.
2020L 41906 Pineapple Pencil Holder
This is adorable! Big fan of this one.
All in all this is a really fun set to build with a younger LEGO fan. We had some great conversations about old LEGO sets and the ones I grew up with and wanted. A truly quality set that was a heap of fun. It was so great to reminisce while watching my daughter have a ball.
A special thank you to LEGO for sending me a copy to review. All thoughts on this set are my own and are not influenced in any way, shape or form. The provision of sets for review does not guarantee a favourable review.