Theme: Minecraft
No: 21170
Release Year: 2021
Cost: AU $79.99
Pieces: 490 (with 2 minifigures)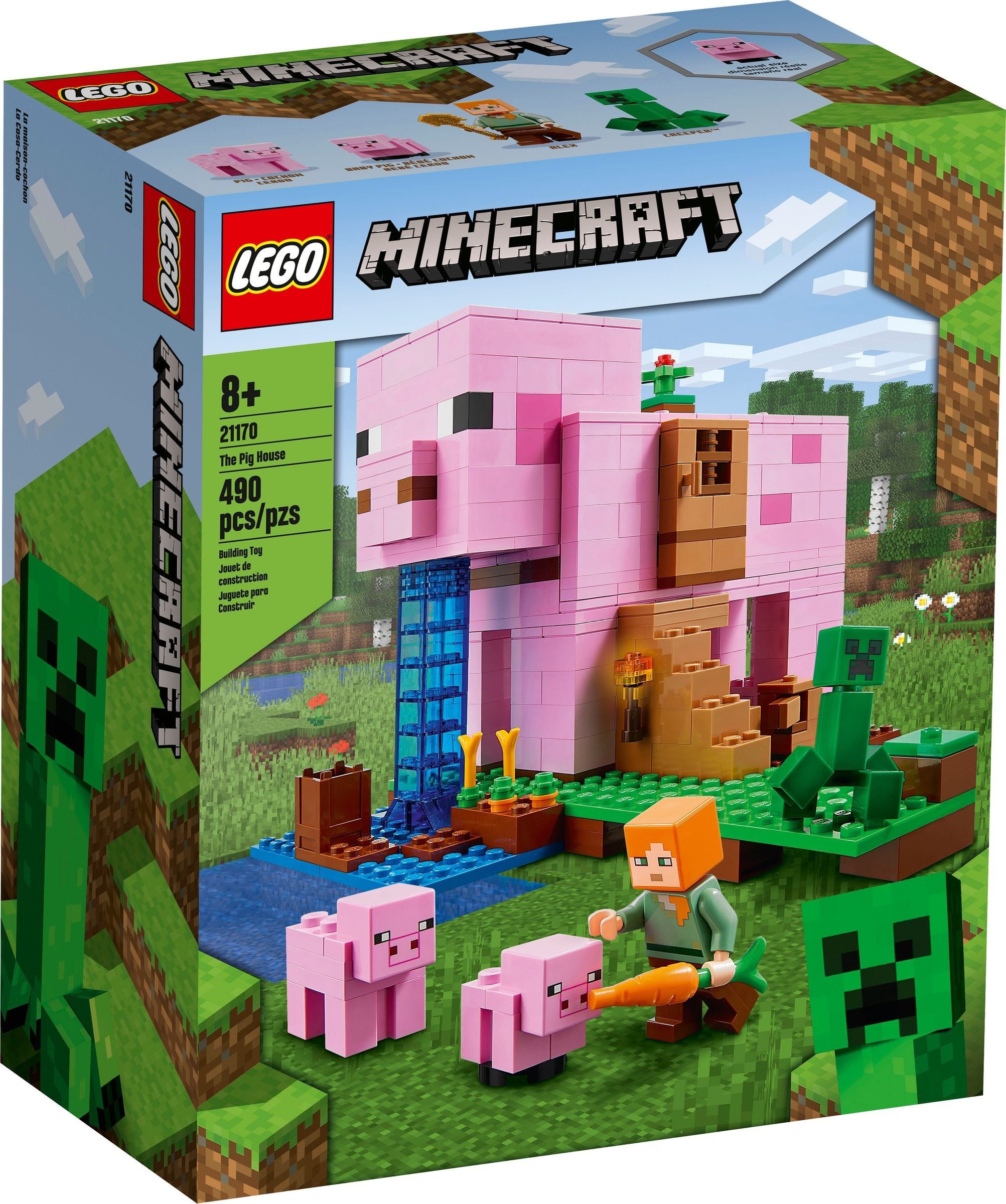 It's been a really long time since I've reviewed anything from the Minecraft range, and as I've been playing it a lot lately, I thought it was time I took a quick look at another one. The Pig House appealed to me as it's a fun looking build (with a whole lot of pink parts), so let's dive in.
Minecraft sets are predominantly based around bricks and jumper plates to give it the blocky look. It means the build is much more simple, but this one has a fun play element. The minifigures included are Alex, holding a carrot and a golden shovel, a Creeper, and a adult pig and baby pig. The pigs look great, and the baby one is just cute.
The base of the build includes a raised grass section, a patch of water and the pig pen under the house. The house itself is cool, made up of six separate chunks – the four legs, the head and the body. These being separate will come in important later. There's a staircase leading up to the house, and a carrot patch and crate with a torch clipped to the side of the stairs.
The house has a nice door that swings open, but this is purely for aesthetics as the whole front wall opens up to reveal a carpeted floor, green bed, furnace and crafting table, with a window at the back.
The head includes a water feature both inside and out, and behind it (oddly) what I guess are some bookshelves. There's also a few small lips here and there, using the bricks with side rails, which holds up the roof – a plate of dirt with a flower on the top.
The play aspect comes at the back – the creeper can stand on the lever which will propel the back legs up, toppling the whole structure. It's actually kind of cool, as the build can easily be rebuilt, for it all to happen again.
This was a quick and fun build, with a good assortment of pink elements – some I don't have a lot of in my collection. The printing looks good, and it has a fun play element. For $76.99 it's not on the cheap side, and there aren't too many special elements included – it's mostly standard bricks. If you see this set on sale, it might be worth picking up, if only for the pink.
A special thank you to LEGO for sending me a copy to review. All thoughts on this set are my own and are not influenced in any way, shape or form. The provision of sets for review does not guarantee a favourable review.