Theme: LEGO Ideas
No: 21324
Release Year: 2021
Cost: AU $199.99
Pieces: 1367 (with six minifigures)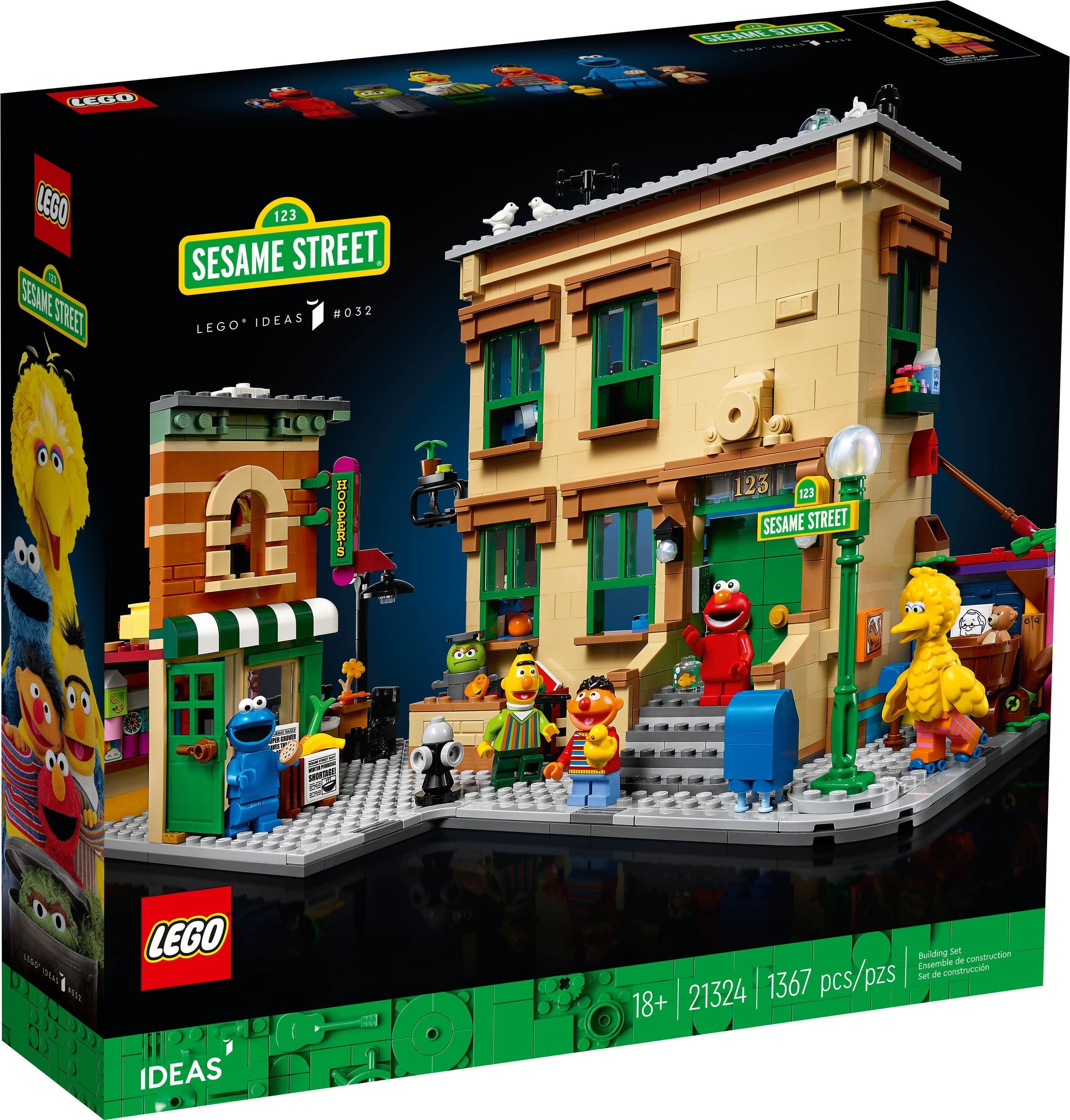 As most kids did, I grew up watching Sesame Street. Starting back in 1969, it's a staple of so many kids around the world, including my kids . This is quite exciting for me, as my daughters can experience the joy and laughs of Sesame Street as much as I have. Seeing a Sesame Street LEGO Ideas set being produced was incredibly exciting, and so I sat down with my 3.5 year old daughter to get it built.
It's a set that's marketed particularly towards the 18+ group, which makes sense because of nostalgia and most (if not all of them) probably having grown up with the show. The good thing about LEGO is that these are usually simply guidelines, so younger builders would be find building this too. I also like the black box on this one, given the colourful set just pops against it.
Inside the box are 11 numbered bags across six build stages, 1 un-numbered bag of plates and large bricks, an instruction booklet, and a sticker sheet with 23 stickers. Once again, the instructions are black paged as well, which makes building and reading somewhat difficult at times.
Including the 123 Sesame Street building, plus Hooper's Store, this set includes a good amount of new elements, and some excellent looking minifigures. Let's check them out first.
Miss 3 absolutely loves building the minifigures, and these were undoubtedly her favourite. The first to build is Big Bird, or as Miss 3 calls it, Big Duck! Big Bird has yellow wings from the Chicken Suit Guy CMF, and the torso is a new one, using softer rubber and incorporating the head, feathery torso and tail. It's actually brilliant. The legs are also perfectly coloured with stripes.
Elmo is next, and with the smaller legs and red torso, this one is comparatively dull, but I think it's perfect. Elmo's moulded head has some moulded fur at the back, and a fantastic expression of pure joy and wonder. I'm also glad the designers didn't try to print the fur texture on the torso and legs – it would have looked too busy.
Bert and Ernie also have new moulded heads, and great printed torsos with their classic sweaters. The hair and colouring in the heads is brilliant, and I'm glad that Bert, being the taller one, has the medium sized legs in dark green.
Similar to Elmo is Cookie Monster (my personal favourite). He's got a thicker neck and medium sized legs, and iconic wonky eyes. I love it!
Oscar the Grouch is interesting. He's not got a new moulded head, but a round BB-8 body with a print on it. I would have preferred a new mould, but this is still ok. He's very rarely seen out of his trash-can (it's happened before), so it makes sense, but you do lose the typical shaping of Oscar's head. On with the build!
The architectural detail in this set is stunning, and very accurate, particularly in the 123 Sesame Street brownstone building. The set has differed quite drastically from the original submission by bulldoozer, but has kept the important details in the facade of the brownstone, with the door and windows in particular looking absolutely spot on. I'm also glad the inside got thinned out, as it was absolutely chock full of details, at varying roof heights. Narrowing it down to Bert and Ernie's apartment and Elmo's bedroom was a good call. The extra parts could then be devoted to Hooper's Store and Cookie Monster's Apartment, which is odd, but brilliant.
It did seem a bit strange that the inside of the corner building is visible from the front, but it's grown on me. You can see the details inside without having to turn it around. When you do, to see not only the interior of the brownstone. but the courtyard of Hooper's, which is lovely. Viewed at a slight angle, the set is great. This is probably not one to view front on.
The brownstone honestly looks great. The details in this building would look great in a modular building, as well as the techniques used, particularly in the detail above the door. The windows in the front are one of my favourite details. The whole building is simple yet detailed. It's elegantly done, including the porch lights using DOTS gems. Off to the side is Big Bird's nest. This looks a bit more haphazard, but it's fun and is also quite close to the original.
There's the orange cupboard in the tree, Big Bird's teddy Radar in the nest, a blue mailbox, and even pictures of Snuffy and Mr Hooper. This one is a special one, as it's from Episode 1839, where Big Bird learns about Mr Hooper's death, and what death means. It's quite an emotionally charged episode and this is a lovely nod to it. Out the front of Big Bird's nest, instead of Oscar's place is a blue mailbox. I've got a feeling that they used an image like this for reference. It's a nice mailbox, but the legs are made (rather cleverly) from four minifigure syringes, so they don't actually connect to the baseplate. Next to it, however, is another one of my highlights – the brilliant Sesame Street sign, making excellent use of a transparent cloudy dome part, and a green light pole!
There's references galore in this set, to the huge range of characters that just couldn't be added, and that's great, especially for the Sesame Street fans that know them all. Ernie's milk carton on the windowsill for the Twiddlebug family, Mr Hooper, Oscar's pet worm Slimey, printed on an orange heart tile, Abby's fairy garden, mural and magic wand, Biff and Sully's Construction company (and that brilliant pot plant!), the Martians and Telly on the noticeboard sticker, the stickers in Elmo's room (Zoe, Rosita, and Elmo and his dad), Bert's bottle cap and paper clip collections, Bert's pigeons on the roof, Guy Smiley on Cookie Monster's TV, the Count above it, and that's not even all of them. My favourite little addition is the Martian's flying saucer parked on the roof. The little green bar inside is also brilliant, as it looks like a little alien inside.
The parts and builds are jam packed in there, and at times it may look a little cramped, but I think it's worth it. Inside the main building is firstly Elmo's bedroom on the bottom floor. A good portion of the floor is taken up with the building's main entry, with the green doors and red floor. The space next to it is the bedroom itself. It's perfectly Elmo, with bright colours and toys! A rocket, toy train and bunny – this one I'm particularly excited about, as I've not got one of these before. There's also Elmo's goldfish, Dorothy. Miss 3 was particularly excited to find it. It does look a little odd with the train not physically able to fit under the bed, but I like the illusion. The bed is also very well crafted. The shaping of the bedhead in particular is excellent.
One floor up is Ernie and Bert's apartment, and it's crammed full. Two identical beds, an armchair and Ernie's bath (with rubber ducky) all packed in one room. The beds are beautiful, and look like detailed wood. The parts use here, especially in the bedhead are spot on. It's also as close as possible to the show. The lampshade is great, using a Minecraft head in white.
Immediately next to the beds is Bert's armchair, and Ernie's bath. It's strange because there's no separating wall, but it'd be a big waste of space. There's also some books on the shelf behind, a shower curtain and of course, Ernie's rubber ducky! Every time I write rubber ducky I can't help but sing the song…and I don't mind at all!
I like that the roof isn't complete, using two 8×8 wedge plates on each corner instead. It's great because some minimal details can still be added on the top, with a good look at the builds inside. It's well thought through. The top floor has the pigeon coop and arial, plus the chimney and flying saucer.
Hooper's Store is much smaller, but still packs a punch. The exterior is simple, with a nice striped awning wrapped around it, and an outdoor seating area. With a counter and great looking cash register, an assortment of items to buy on the back wall, and a tablecloth (sticker) covered table.
The parts here that I'm particularly pleased with are the coffee cup, 3×3 round white tile, and the small tan stalk that's under the yellow flower. I've not come across these before but they look like a great addition.
Cookie Monster's place is quite small but has some lovely details. The Alistair Cookie armchair, the TV and foot stool, plus Guy Smiley on TV and more. There's even a bat and nice looking air-con unit on the roof. The Hooper's Store sign outside is also great. The best detail in the upstairs apartment though? The VCR! There's a tape sticking out and one on the table. It's so good!
I had a heap of fun with this set, and building it with Miss 3. There's nostalgia packed within, some lovely details and bright, vibrant colours and fun minifigures. If you grew up watching Sesame Street, or have little ones that currently watch the show, this is worth picking up. I would have loved to have seen the Count and Grover included, or even Super Grover, but given Cookie Monster is included, it'd be hard to differentiate two blue characters, so I can see why Grover wasn't included. It's a shame about Count, but the inclusions were lots of fun.
A special thank you to LEGO for sending me a copy to review. All thoughts on this set are my own and are not influenced in any way, shape or form. The provision of sets for review does not guarantee a favourable review.