Theme: Creator
No: 31084
Release Year: 2018
Cost: AU $119.99
Pieces: 923 (with five minifigures)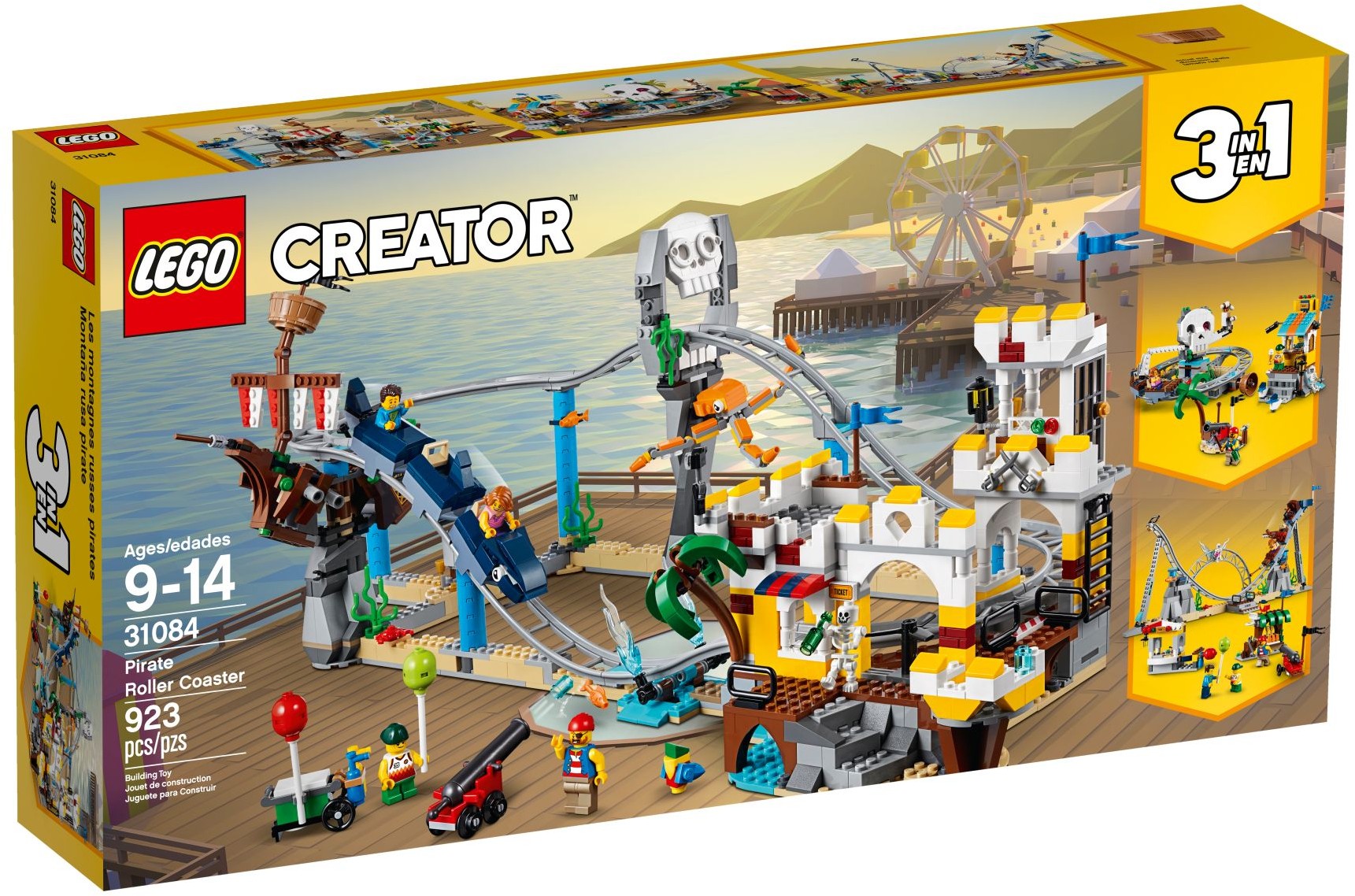 2018 was the year of the LEGO Roller Coaster, with two brilliant sets hitting shelves. This one, 31084 Pirate Roller Coaster, and the grand-daddy of all Fairground sets, 10261 Roller Coaster. I wasn't able to fork out the AU $500 for 10261, but I did get a couple of copies of 31084 – one as a review set from LEGO, and one as an exhibitor gift from Bricktober Perth 2018. I was ecstatic! Let's dive in and take a look.
Immediately after opening the box, my heart sank – the 12 bags are all un-numbered! That meant over 900 pieces scattered on my build table, which also meant taking an age to find the one piece I needed. I had to do this three times, for all three builds – yep, it's a Creator 3-in-1, so this is standard for the small sets, but I thought given the size of this one that it'd be different.
As I was writing this and preparing the images, I realised, unfortunately far too late, that I neglected to take a bunch of photos of the full build for the main coaster set up! It was too late as not long after I finished building the third model I pulled it apart to incorporate it into my main fairground setup, combining the two sets to be one big roller coaster. So, apologies for the lack of images for the main coaster's full setup – I'll be using some from Brickset's limited selection instead. I also couldn't fit the build inside my photo setup, so I had to build this one on my build table. Needless to say, they're a bit busier.
Inside the box is, as I mentioned before, 12 un-numbered bags of parts, 1 manual, and no stickers in sight!
ELEMENTS & MINIFIGURES: 18/20
There are five minifigures included – a young boy with a basketball jumper and cap, a woman and a man, a pirate, and a skeleton. They're all quite standard, and have been seen in multiple sets before, aside from the torso of the boy. It's only been seen in one other set – 60153 Fun at the Beach.
The skeleton is standard, but great to have, and the pirate is a lot of fun – it appears he's a fairground employee, as he's operating the rides. The woman's double sided head is interesting – she's smiling on one side, but appears to be sleeping on the other! It's an odd choice for a roller coaster set. The man is my favourite in the set though – he's got a double sided head too, with an excited smirk and a worried look as well. I think he's thinking he doesn't want to be on the ride any more!
The elements in this set are a good mixture. There's the obvious track elements which I'll get into in a minute, but there's also the coaster carts, a stack of almost 40 round 2×2 bricks in medium azure, and plenty of piratey themed items to flesh out a big pirate display. Also, there's a large 10×10 corner plate in reddish brown. It's only been seen in a couple of other sets, and large and expensive ones at that, so getting one here is excellent.
The track variations are the most interesting though. In the last two years there have been four other sets using the new style of track. This set – 31084 Pirate Roller Coaster – has light grey track and comes in a variety of styles – two bowed in steep tracks, two bowed out steep tracks, four 90 degree curves, and two gentle inclines. Obviously, there's enough here for a full circuit. The one thing that's not included is straight track in this colour. This doesn't mean it doesn't exist though.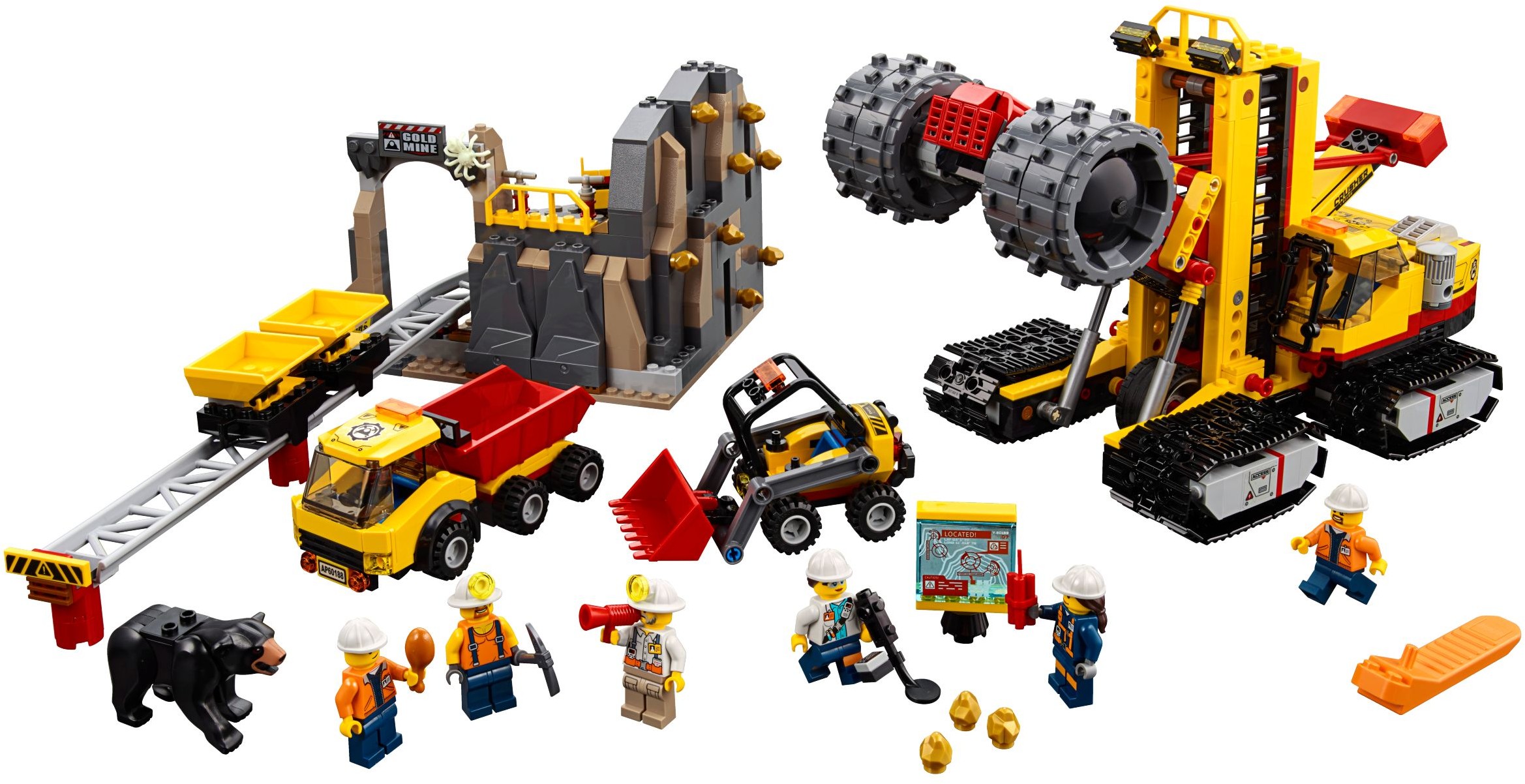 60188 Mining Experts Site from City does have them. There's two included, with one 90 degree curve. This is a big deal, as it took a little tweaking with the Pirates one to get it connected. The set isn't cheap, at over AU $100, but it'd be worth it for the straight sections of track alone.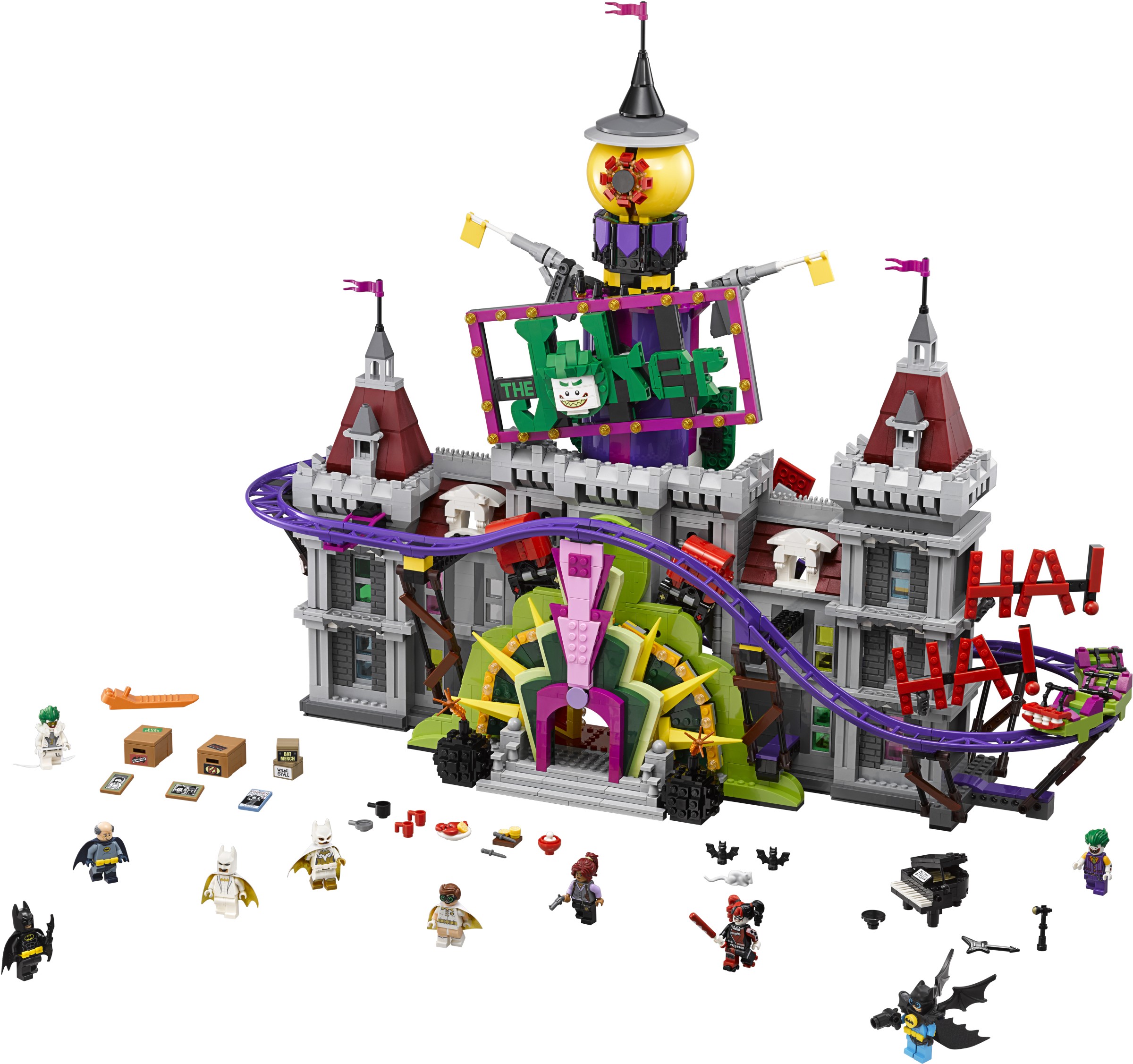 The next two, 70922 The Joker Manor and 41456 Unikingdom Fairground Fun has tracks in medium lilac.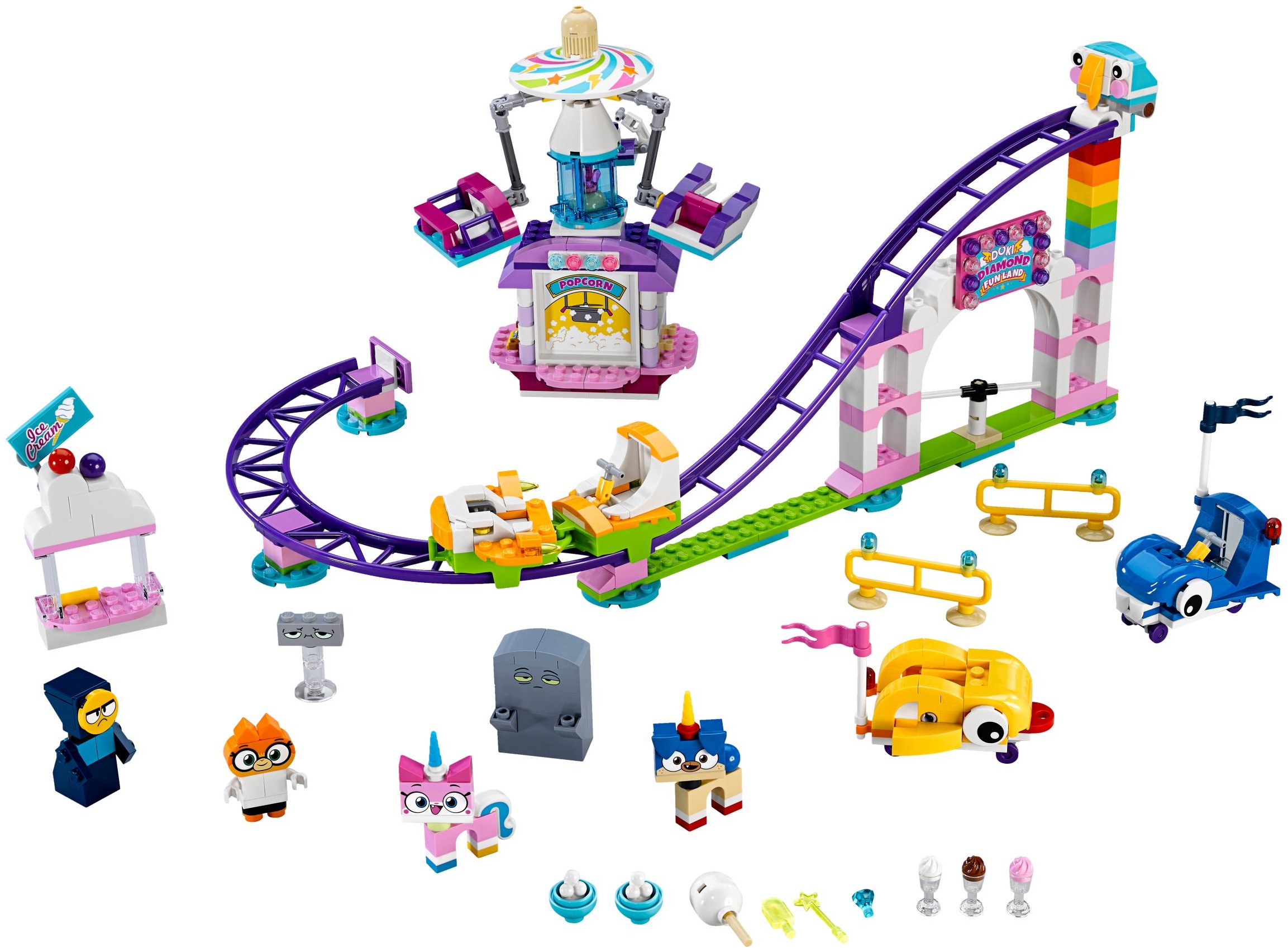 Combining these two together will result in a complete variety of tracks, albeit with a difference. There's the full range of the four curved and inclined tracks (bowed in, bowed out, 90 degree curve and gentle incline), but where 70922 The Joker Manor has the upper hand is in the inclusion of some straight track. It's much smaller, at about half the length, but it's still available.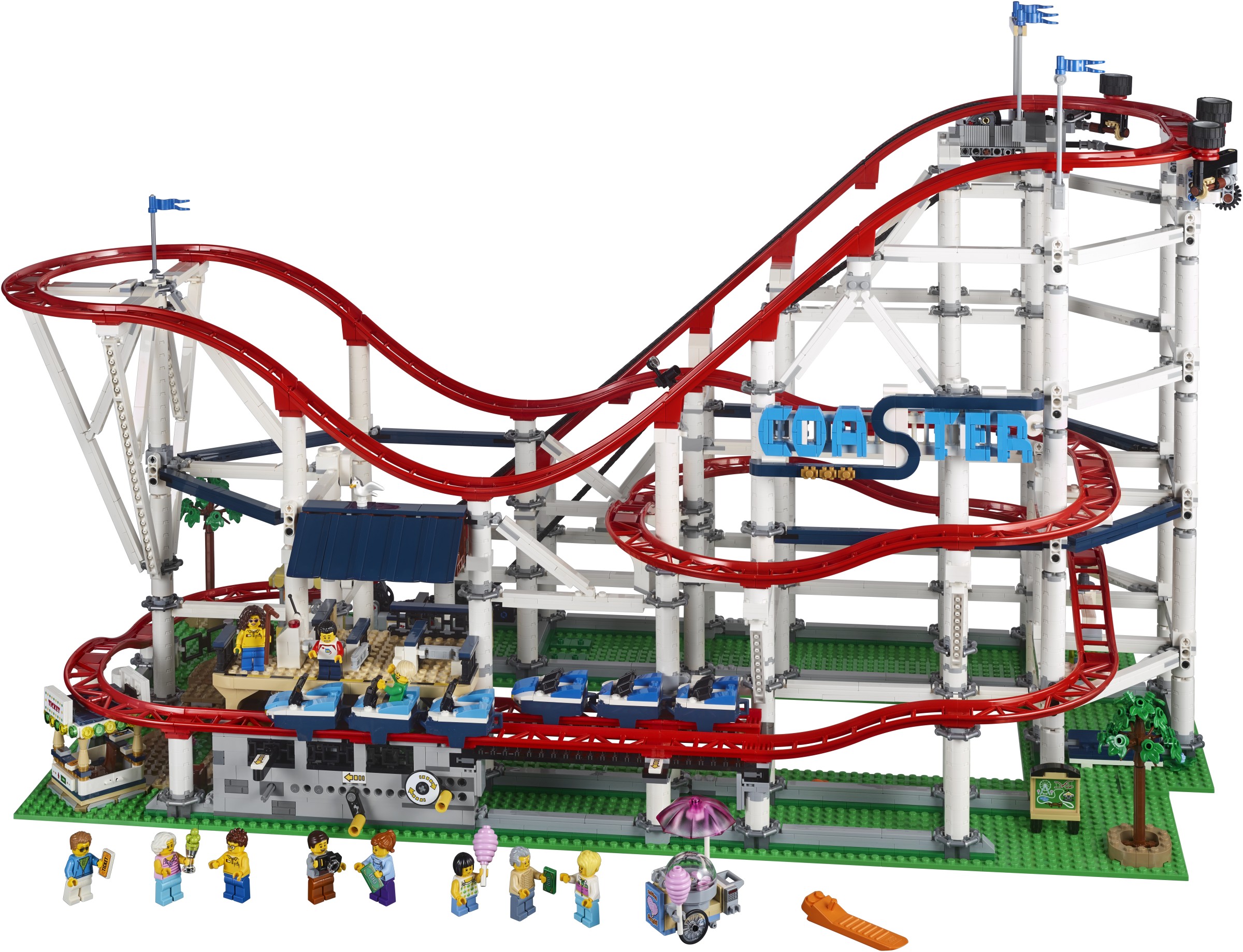 Finally, there's the masterpiece, 10261 Roller Coaster, which has the tracks in bright red. This has the complete range, plus a few extras. There's the gentle incline, 90 degree curve, bowed in, bowed out, short, and long straight, plus a straight shorter incline as well. There's a huge selection of track here.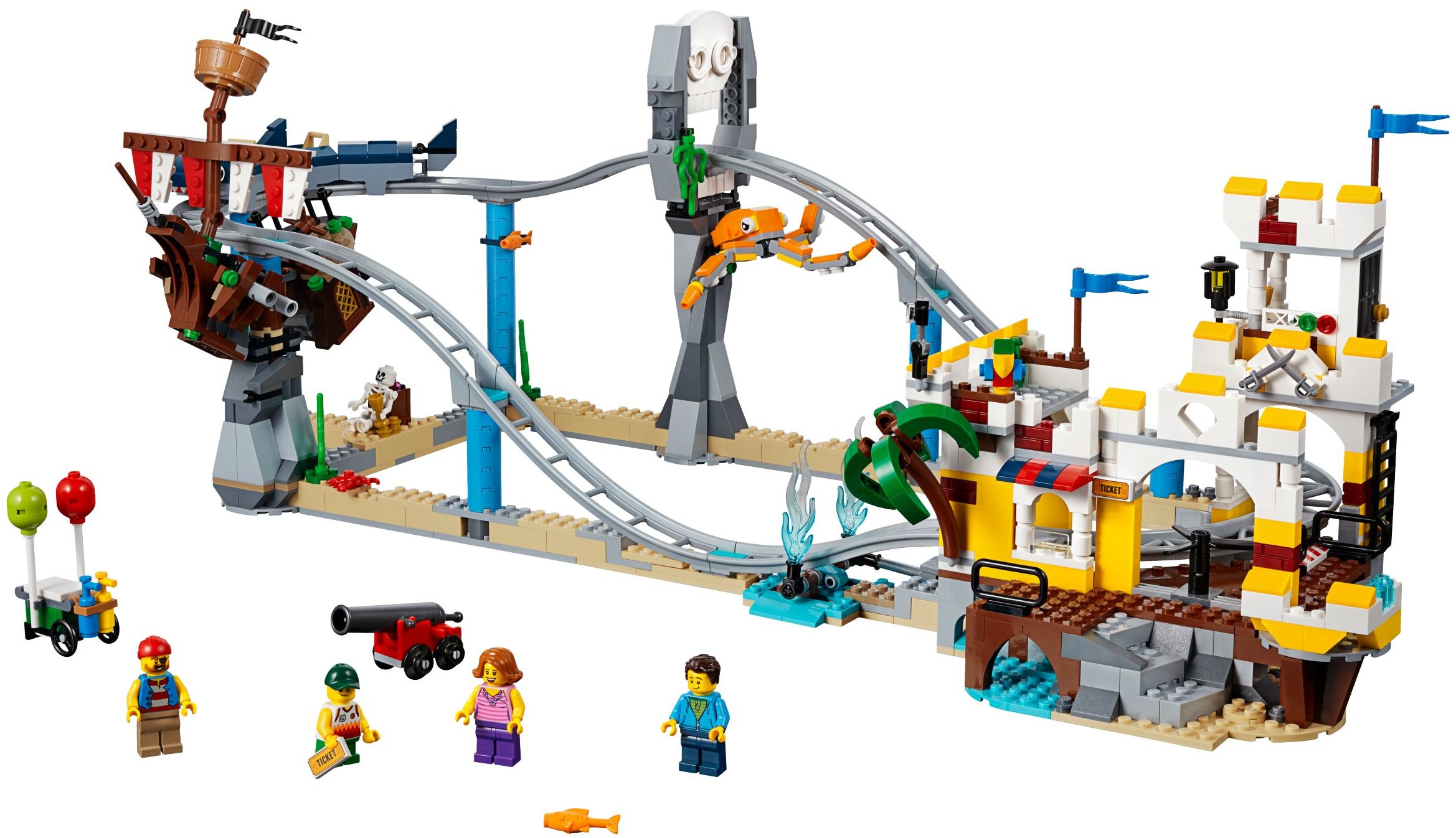 Back to the Pirate Roller Coaster. If you want a cheaper alternative to getting a full track, this is definitely the set for you. Spend a bit extra and you can either get some straight track in a City set, or more curved track. It's a great option to have.
SWOOSHABILITY: 18/20
My goodness this set is fun to play with! While it doesn't have a motorised function to draw the carts up the incline, it's still just as fun pushing it up manually and letting it drop down. There's also the very nice little ticket booth and the water splash section to have some fun with, and that's not including the other two builds! I did find that if you connect the water splash parts too tightly, it won't activate as well as it should.
The second and third models are simple, but a lot of fun to play with.
The circular track model is trickier – it takes a bit more momentum to propel the carts around the track. Much more so than if you were limited to leaving it on the table. I found I needed to pick it up to make it do the full circle, but the third one is a lot of fun. These are a tonne of fun to play with. You'd think it would get old after a while, but it really doesn't.
BUILD: 18/20
I'll be focusing on the build portion of the main set, as the rest are much simpler, but there's still a lot of enjoyment in seeing it come together.
It all starts with the little balloon stand and the minifigures. It's quick and then you're on to the ticket booth. It reminds me a fair bit of the old school pirates sets in the yellow and white – Eldorado Fortress anyone? It's pretty quick to build, with no real difficult techniques to worry about. There's a cannon included, which can be moved around to two other different spots on the build, to "splash" riders with water as they come down.
Before you know it it's done and you've added the first section of track. To be honest, this is where it gets a bit more exciting.
Each time a part of track is added, you can't help but add a cart and test it out. The next sections of detail are added, including a swinging skull rock and a shipwreck. I was particularly impressed with the ship. It's very simple to put together, but looks so effective! the octopus is added to the underside of the track under the skull, the shark coaster carts are built, and away we go!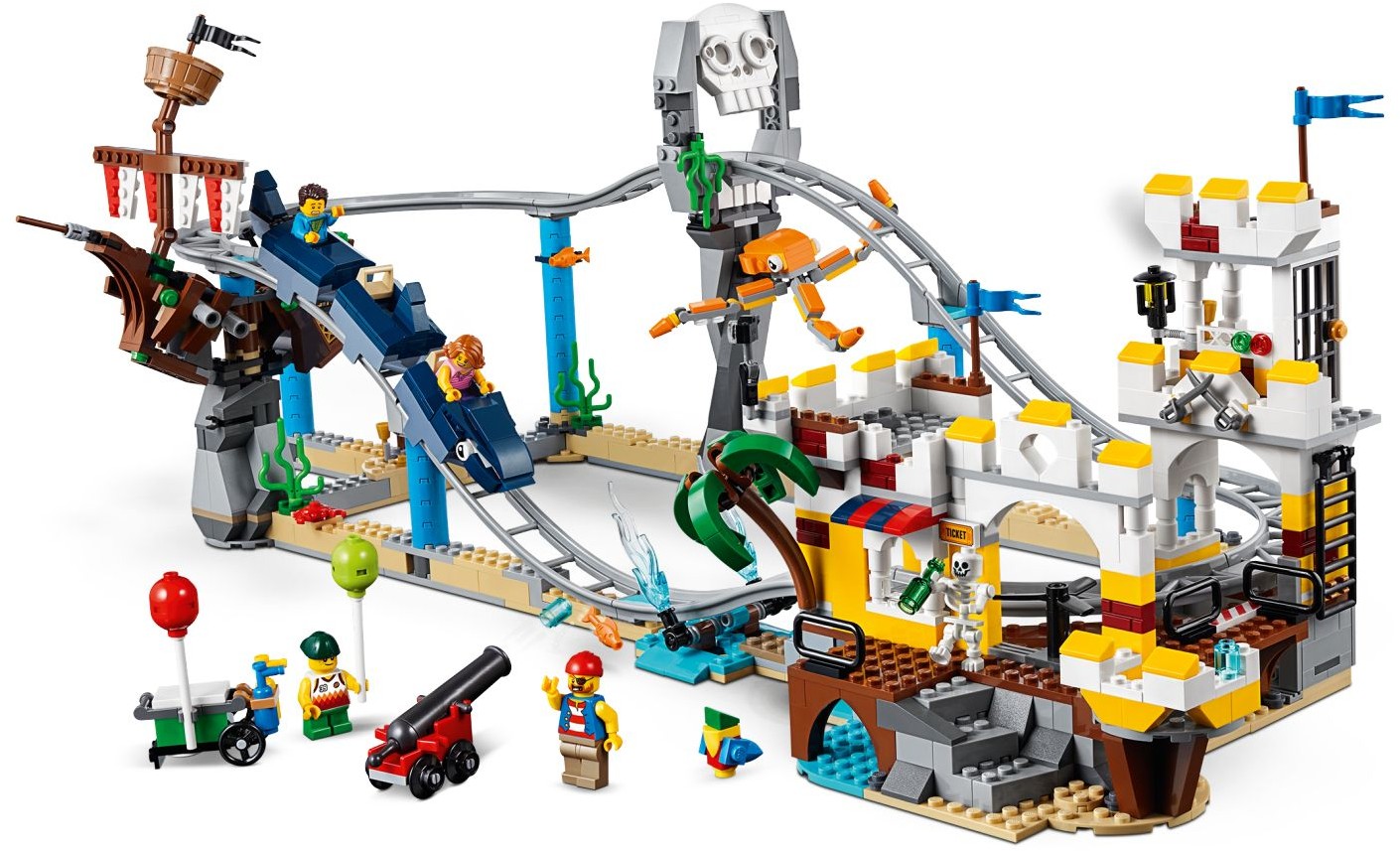 To be honest, the bulk of the time is with the ticket booth and entry stand. The structure holding it all together is just bricks and plates with stacks of 2×2 round bricks reinforced with a central core of a Technic axle, so it's fast.
While I like the shark coaster cart, it looks really goofy without a bottom jaw. I'm not sure it's possible to add one as it might hit the track at some points, but it's not exactly what I'd call a menacing shark.
The other two models incorporate some interesting techniques for the mechanism. They're simple but very clever. It was also surprising that the final model – the double ramp coaster style build – connects the upper sections of track in a different way, so they only line up, and not connect directly.
The circular model's build process was actually a fair bit of fun – the build for the skull was intriguing, as it's built with the skull facing the other way around, so as you piece it together (if you don't turn it around), you won't actually see it coming together.
It's important to note that adding the barrel controller to the model needs to be specifically left further away from the base of the axle, as the coaster cart can hit it when it rolls past.
DESIGN / APPEARANCE: 20/20
The set looks stunning, no matter what build you choose. It's larger than I anticipated and includes such nice, bold colours. I was also able to pick up the entire thing without it falling apart, which was quite surprising. There is so much to like about this set. I'm so glad it exists! I honestly don't think there's anything I can fault with it design wise. The carts flow so smoothly, there's no friction to stop it from coasting, and it's also not too noisy. 
It's also good that it's not too detailed in the middle as it's easy to incorporate into your own fairground layout. As I said earlier, I've combined my two copies to be a large roller coaster to go around my Ferris Wheel. Thanks to the incline sections it gets a great amount of height, and with some trickery of using the curved tracks, I can get a flat section to go through the Ferris Wheel's legs.
I'm in the middle of fleshing out some details, so I'll be sure to post some more images when it's done.
So far, I've heavily modified the ticket booth to make it fit on the inside of the curved track, not the outside, as well as add a lot more details.
I've also made the ship larger, adding extra length to the front, with another cannon, and an extra deck to the back.
VALUE FOR MONEY: 9/10
For AU $120, this set is a great deal. There's the three different coaster styles, some excellent pirate visuals, and it's a complete roller coaster. The parts included are great for extending a pirate display, and the coaster track parts are subtle, so can fit in to many different fairground styles. The minifigures are a little bland, but that's not why the set is purchased. It's still a good amount of money to spend, but it is definitely worth spending.
COLLECTIBILITY: 10/10
This set has collectible written all over it. Combine it with another copy, or sets mentioned above that have other track sections, and it's a brilliant inclusion. You can purchase three copies of this set for the price of one 10261, and still end up with a massive coaster. If you have a fairground setup at home, this set is a must, even if you already have the big one – 10261 Roller Coaster.
OVERALL: 93/100
A special thank you to LEGO for sending me one copy to review. All thoughts on this set are my own and are not influenced in any way, shape or form. The provision of sets for review does not guarantee a favourable review.