Theme: Creator
No: 31109
Release Year: 2020
Cost: AU $159.99
Pieces: 1264 (with four minifigures)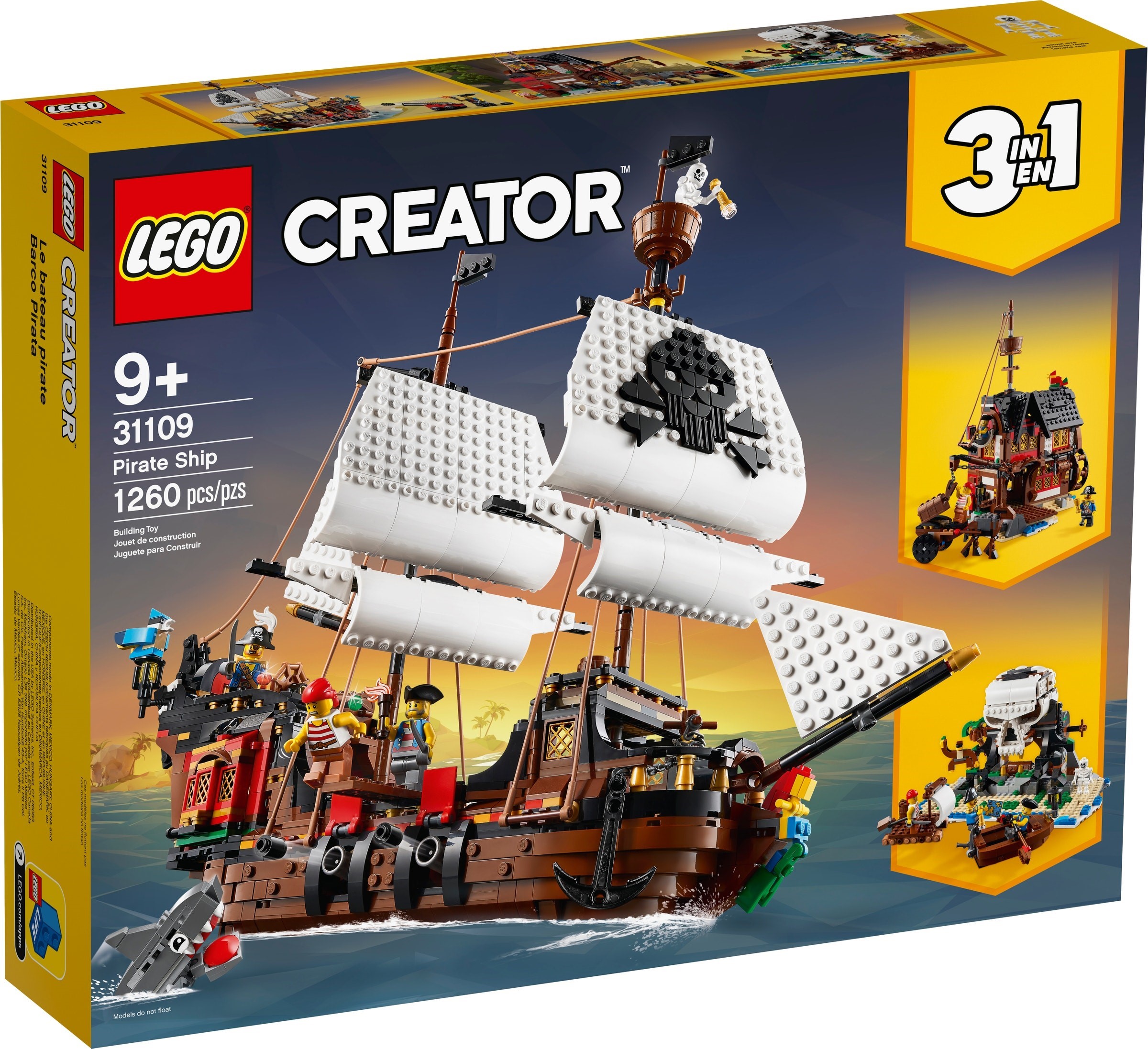 This year was a pretty great year for LEGO Pirates fans. We had the superb 21322 Pirates of Barracuda Bay back in April, and now this – an excellent Pirate ship from the Creator theme. This is one of the most anticipated sets from the theme, and I'm actually really sad I didn't get three copies so I could build all three models!
This review will only cover the A model – the ship. I didn't have the heart to take it apart to do the other ones, it's that good! The other models – Skull island and a little tavern both look excellent in their own right, but that ship…
There are four minifigures included – the captain, a first mate, and what I'm guessing is a cabin boy – he certainly looks a lot younger than the other two, plus a skeleton for good measure. They look good, with some pretty standard printing, although the captain's torso is unique to this set – it's got some lovely details.
There's a couple of minor build included with the model – a blue parrot (although it looks a bit more like a blue tern), and a brilliant looking brick built shark. This is a fantastic model! To be honest, I'd prefer these over the single mould sharks any day. It's got a bit of poseability and looks perfectly comical.
The hull seems quite short and squat, but it comes together nicely. It's built in three sections, and held together by some central Technic pins and SNOT work around the outside. The curves are nicely built using SNOT reddish brown arch bricks. It's not what I'd call watertight, but it is effective.
The rear of the ship contains the beautifully shaped captain's quarters. Using hinge plates and clips, there's a great tapering and curvature at the rear of the ship that is really nice. It's subtle and sleek.
The top deck of the ship, above the captain's cabin can also hinge open to provide access to the inside. The rear sail has to be swung out of the way, but it's very neatly done.
The sails are done using white plates of various kinds, and it works really well. The bottom sails use the curved walls with bows to mimic rolled up sails. In addition, the rigging uses medium nougat flex hoses. To be honest, these are actually perfect for rigging. There's enough give in them to have a bit of movement, but with both sides attached, it's incredibly sturdy. It also looks great.
The fore sail has the large skull and crossbones on it (thanks to the sails being plates, and it looks fantastic! One of my favourite touches on the ship, though, is the figurehead.
A mermaid with arms reaching out, this is so well done, with so few parts. I'm really impressed. If you wanted to display the other side of the ship, it's a quick change of the flag and triangle sails, and switching the plank over. It now has pride of place with my other ships, and it looks fantastic.
This is a really good ship. I think it could have done with a few more minifigures – three plus a skeleton isn't enough to man a ship, but it is a Creator set, which tends to go light on the minifigures anyway. If you see this on shelves, grab it. It's absolutely worth it, and that's just for one build. The other two look pretty great too.
ELEMENTS & MINIFIGURES: 18/20
SWOOSHABILITY: 18/20
BUILD: 18/20
DESIGN / APPEARANCE: 19/20
VALUE FOR MONEY: 8/10
COLLECTIBILITY: 10/10
OVERALL: 91/100
A special thank you to LEGO for sending me a copy to review. All thoughts on this set are my own and are not influenced in any way, shape or form. The provision of sets for review does not guarantee a favourable review.