Theme: City
No: 60271
Release Year: 2020
Cost: AU $279.99
Pieces: 1517 (with 15 minifigures)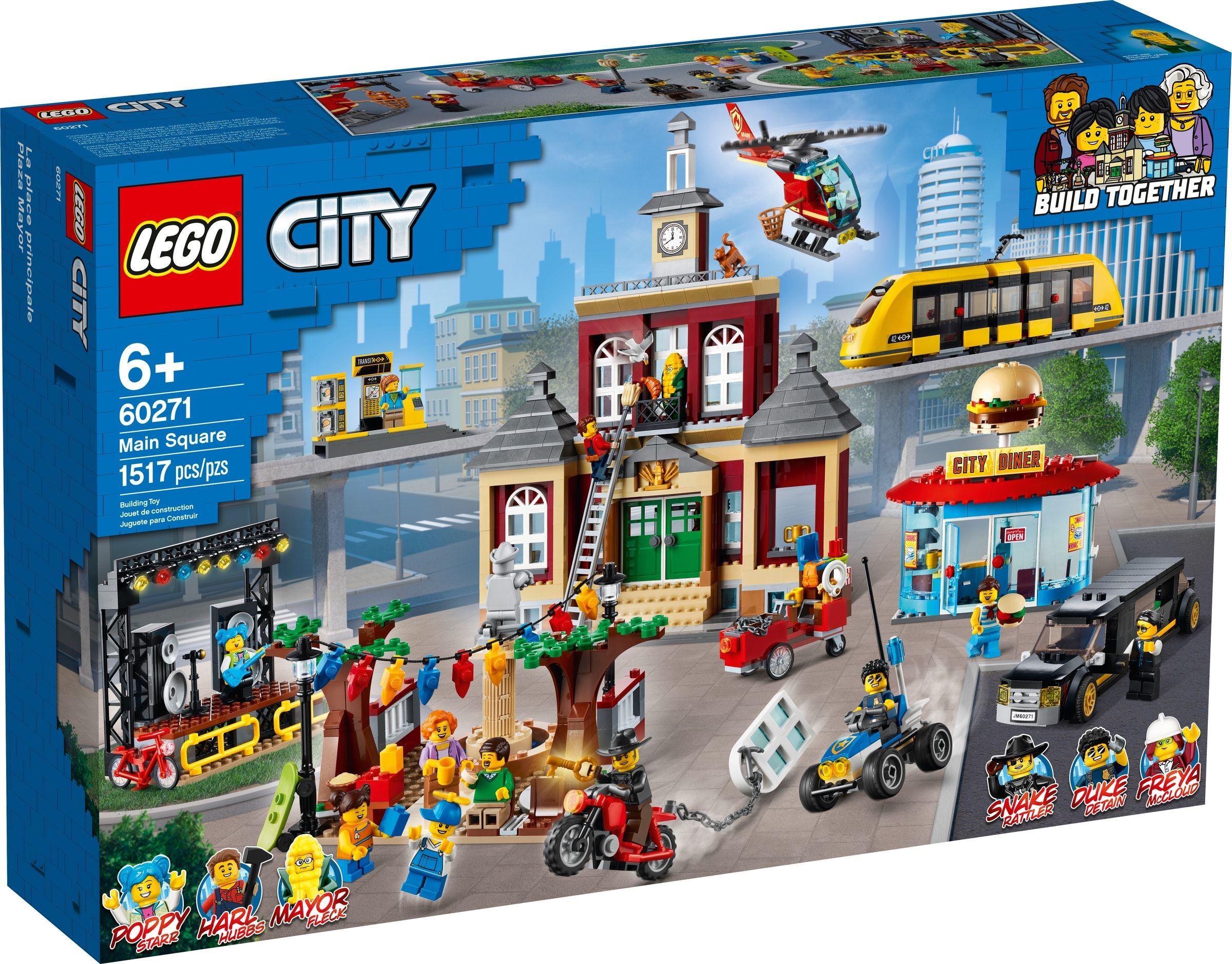 The City theme is a brilliant theme for all ages – sets of all sizes, subject matters (related to City life of course), and varying price points. The larger City sets are great, with a range of builds big and small. Buildings, vehicles, public transport, it's all here. They usually go for a steeper price, but this one is different. For some reason, the price is exorbitantly blown out. Maybe taking a deeper look into the set may explain why?
There are a number of builds to this set – a strange looking handyman's cart, police quad-bike, helicopter, limousine, park, burger restaurant, stage, light rail and station (is it really a monorail?), and the town hall.
When the box art was released, lots of people got excited about a monorail. According to the image, it's true – it certainly looks like a monorail, but without any tracks or the telltale design of a monorail undercarriage, this is simply a light rail system.
There's a large number of minifigures included – 15 in fact. Some have names, others do not, thanks to the LEGO City Adventures on Nickelodeon. If you've not seen the series yet, I'd recommend taking a look. It's actually pretty funny!
Snake Rattler is the resident criminal – With a leather jacket and snake dollar sign logo on the back, he looks pretty mean. The striped shirt as a nod to his possible jail time and the snake tooth necklace, he looks menacing. Hes also got a black wide brimmed hat.
Freya McCloud is the City's Fire Chief – looking excellent in her red jacket and dual moulded hair and helmet, she's also got a dual sided face, with one side covered in hot chocolate – something that seems to happen often in the show. We've got a very well dressed train driver as well, looking rather smart in his vest, tie and hat, and a bit more boring looking limousine driver.
Duke DeTain is the local hero cop, known for his commando rolls is seen in his tactical police gear, dual printed sleeves and sunglasses. he looks great, but after watching the show, I really wanted to see Cubby, his beloved teddy bear, with him. Harl Hubbs is the handyman and looks brilliant. I love the recoloured Batman utility belt. The printing on Harl's torso is excellent, as well as some minor details on the legs.
Poppy Starr has a vibrant dark azure hairpiece and a very bright torso, and also comes with a dark azure guitar. The little girl is a pretty standard inclusion, but I think this would be Madison Yea, the daughter of Carol the Deputy Mayor, as is the laughing man who must be Marc McCloud, the overly worried father of Billy.
Dressed in a corn cob suit is Mayor Fleck. It's great to have another corn cob suit, this time in dark green. His straight face is excellent, and he has the #1 mayor sash on his torso as well. The next two inclusions are pretty standard female minifigures, with one important difference.
The lady in the zip up hoodie has a hearing aid, which his excellent for even more diversity in LEGO City. Down the end we've got Ann McCleod (officially unnamed, but it has to be), and an unnamed little boy, clearly Billy McCloud, who goes on a flying trip with his new hat.
Let's go through the builds in order. The builds themselves are not overly complicated, so this set would be ideal for builders with entry level skills, but want a longer build experience. First up (aside from the motorbike, which looks great in the new 2020 mould), there's the very chaotic handyman's cart, belonging to Harl Hubbs.
It's a bit of a mess of items, some of which make sense for the handyman, but others not so much. The ladder, chain and mop are suitable, but the dynamite and popcorn? It's a little odd, but given the size of the tv series' rendition, this is a good option.
The police quad bike is almost a given in City sets now. It's not very special, but little kids will love it.
Freya's helicopter is also pretty standard, looking like a very basic design we've seen over and over again. The colour scheme is great, although I would have preferred a more vibrant yellow instead of the bright light variant. It just looks washed out. The net is a nice addition, and the tail fin is not a sticker – yep, it's printed!
The limo is an inclusion I've not seen in LEGO before, although it's not the first time they've done it, and certainly not the first time this design has been used – a white one is seen in 60102 Airport VIP Service. It's a shame it's so skinny but has such wide wheels, and the back of the roof doesn't taper as much as it could.
Poppy's stage is pretty basic, but the large speakers, lights and microphone stand look really good. I like that the speakers can be positioned, but they do twist easier than I'd like. There's plenty of room for Poppy, and I like the barricades at the front.
Oddly enough, the park is my favourite part of the set. It's basic, but the colours in the bunting are bold. The trees are reasonable, although very small and not leafy at all, and the fences at the back are a little odd, but the most disappointing sections are the seats on the floor – I'm guessing it's a park bench – and the present table with food. C'mon LEGO – put a bit of effort in. This is an expensive set.
The statue of Horatio Hubbs, the captured and tied up hero of the City is on display, but if you'd have opened the set without knowing the series, you would be extremely confused about why the statue is handcuffed. He freed the City from pirates in the 1700s, all while being tied up. The detail that links to the show here is excellent. Why did they not do it more through the rest of the set?
The train that isn't a monorail looks decent from the outside. There's plenty of room inside for passengers and the front can be removed for easy access to the driver. The only issue is that there's plenty of room because there's just no attention to detail. It is a repetitive build, as both ends of the tram are identical. While it doesn't come with track, it does fit on regular LEGO track.
The train also comes with a nice little station. It's got a good amount of detail, including a vending machine, ticket booth and timetable. I'm particularly a fan of the timetable, as it uses a Classic LEGO Space seat on its end.
A City Diner is included for city goers to get their fill of burgers. The burger sign is very cool, and I like the blue and red colouring, with the curved roof. The interior has some simple but effective details, but the winner here is the large burger. It uses a reddish brown 6x6x2/3 plate that was seen in the Super Mario sets to absolute perfection. It's excellent.
Lastly there's the largest build in the set, the Town Hall. It's a facade only, with some wings to the left and right. The colour scheme of dark red tan and medium nougat is spot on, and the white and gold accents are good. The problem is that it's just so simple. Even the spaces above the arched windows are squared off. There's just no effort. The most they've done is add a seagull and a cat.
The interior has some treasures inside for Snake Rattler to steal, and a basic (and pretty ugly) lasers that spin when a gear is turned. Upstairs is a basic office for Mayor Fleck, and on top of that is a door that leads to nowhere. Weird.
While there's a lot in this set, there's not a lot of substance. Younger kids will probably like it and the minifigures are decent, but for me, the set was disappointing. It's overpriced and just feels rushed. If you're a fan of the LEGO City Adventures show, you may want to pick it up, but for everyone else, I'd give it a miss. Save your money and go for a modular. Either that, or wait until it goes on sale.
ELEMENTS & MINIFIGURES: 15/20
SWOOSHABILITY: 15/20
BUILD: 10/20
DESIGN / APPEARANCE: 10/20
VALUE FOR MONEY: 1/10
COLLECTIBILITY: 2/10
OVERALL: 53/100
A special thank you to LEGO for sending me a copy to review. All thoughts on this set are my own and are not influenced in any way, shape or form. The provision of sets for review does not guarantee a favourable review.