As per usual, with all four of the 2020 Advent Calendars, I'll be updating this post daily. Each day will have an image of the day's build, a quick comment, with a final overall review at the end of the month. If you want to keep up to date with the post, use the link to the right of the page – it'll be there for the duration of December. I won't be posting any pics on social media, so it won't get spoilt by me!
Theme: Seasonal; Star Wars
No: 75279
Release Year: 2020
Cost: AUD $49.95
Pieces: 311 (with 10 minifigures)
So I didn't find one myself, but a mate of mine (Cam) has a copy and he's agreed to co-write the review with me! I'm super excited!
Yet again, LEGO is spoiling half the calendar by printing 11 of the builds on the front cover – that's near enough to half the box.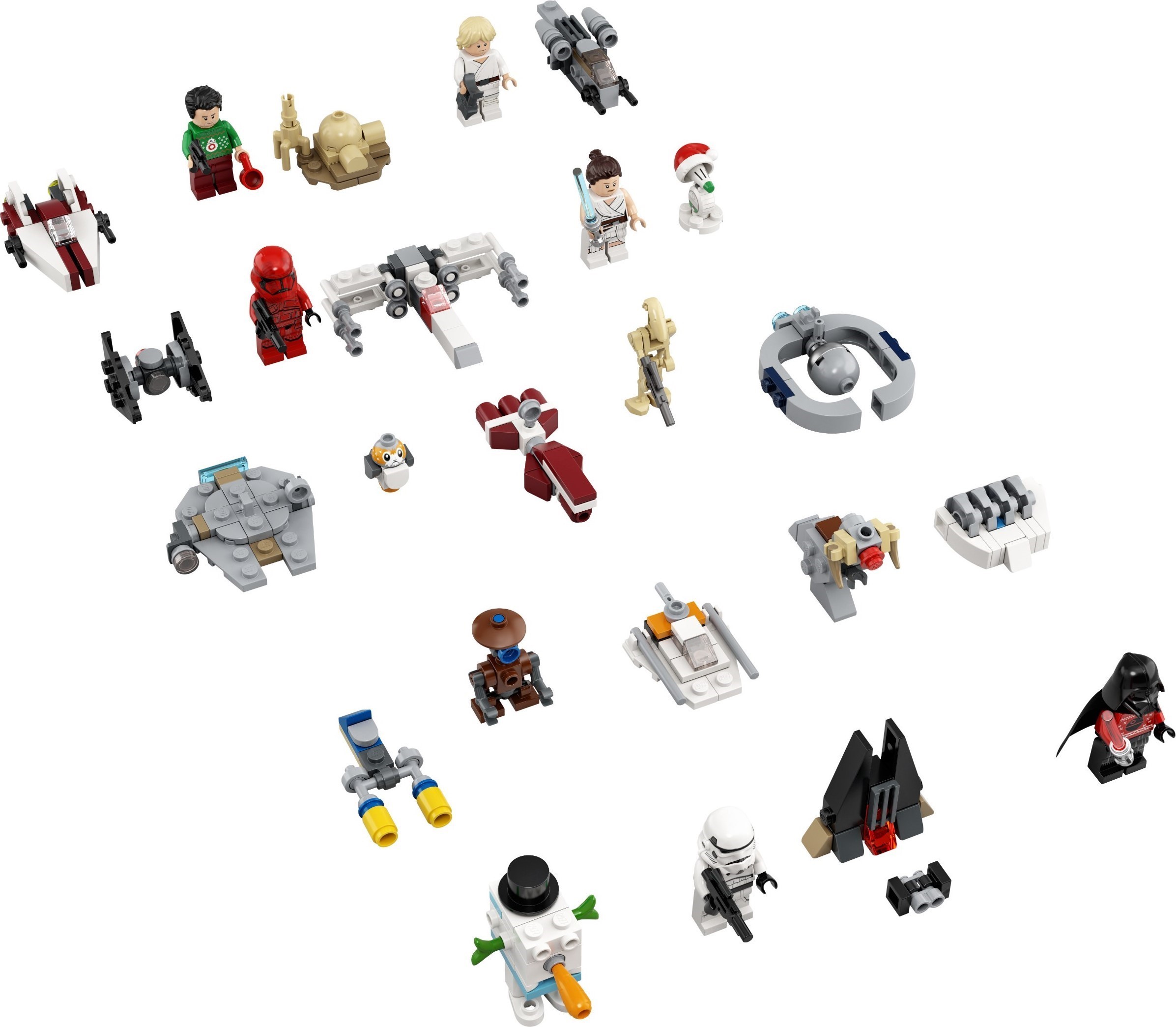 The display stand looks very festive this year, with a light draped Falcon dominating the background.
---
Day 1: A-wing Starfighter
We're off to a flying start, with the A-wing Starfighter. After the release of the UCS version this year, this was a clever place to start, and my goodness, it looks amazing!
Cam: Distinguishable, elegant and precise. This A-wing is definitely one of the best that LEGO has put through in microscale.
I couldn't agree more…
---
Day 2: Poe Dameron
Day 2 is a rather festive Poe Dameron, the Resistance pilot and eventual General. I reckon he looks great! I'm a big fan of that sweater – that's a good addition to a collection!
Cam: Classic Poe Dameron but don't we all love an exclusive print torso – this Christmas sweater with BB-8 on it looks fantastic!
I'm a bit jealous of Cam right now…
---
Day 3: Obi-Wan's Hut
This can be interpreted a number of ways – Obi-Wan's hut, a mini Tattooine house, or the Lars Homestead, home of the family that raised young Luke, but they're all pretty right. This is a really well done version of the building (what ever it's meant to represent). It's the Moisture Vaporator that's the highlight here for me.
Cam: I am really happy with this little build. Tattooine is my favourite Star Wars planet and this is taken straight from that. Instantly recognisable as the home of the Skywalkers. A very well designed mini-model.
---
Day 4: Luke Skywalker
Today's the day for another minifigure – Luke Skywalker with a pair of binoculars. It's nothing overly exciting, but it does have nice printing on the torso and legs.
Cam: Farm boy Luke. If you haven't got him before you won't be disappointed, but this minifigure is so popular. I would have loved to see something exclusive. However, a perfect standard Tattooine Luke.
---
Day 5: Razor Crest
While I'm super excited that The Mandalorian gets a nod in this calendar with The Razor Crest, I'm not sure about this model. It's instantly recognisable, sure, but the proportions are off, and the exposed studs on the side aren't right. It's not easy getting proportions right with micro builds, so they've done a good job, but it's not perfect.
Cam: The Razor Crest. Awesome of LEGO to include the most popular ship in Star Wars at the moment, however, I think the engines on either side are a bit small. Quite a nice sized build, with a lot of spares.
---
Day 6: TIE Dagger
Today we've got a TIE Dagger, or if you're particular about the name, the TIE/dg Fighter. This was first seen in The Rise of Skywalker with Palpatine's Final Order fleet. I quite like the design, and the triangle wings are pretty awesome, using the new 2020 triangle elements. The rest of the build is nothing all that revolutionary.
Cam: Today's build is a TIE Dagger. Another build of a ship and lots of spares left over. Well scaled, simple wings that use some fairly rare triangle plates. Overall a fair build.
---
Day 7: Sith Trooper
This is glorious – a Sith Trooper. These are relatively rare, having only been seen in two other sets, so getting one here is exciting. It's so vibrant and shiny! I love this. The printing looks beautiful.
Cam: Today is a Sith Trooper. It's super clean looking, sharp, glossy. The red is really beautiful. It almost seems different as to a normal red brick. Nice to see having a clone head under the helmet is standard now too.
---
Day 8: X-wing
Microscale craft are brilliant, and this is another beauty – an X-wing! It's a similar design to the previous versions (seen in 2011 and Poe's Black One last year), but it's still a beauty. I love that new nose cone.
Cam: It's nice to see the inclusion of an X-wing again this year. I thought it had been a while and so I did some research and it has! The last time they did one was in 2011, and surprisingly there is very little different. The main being the slope on the front. Overall happy to swoosh this little thing around the living room.
---
Day 9: Rey
We've got a Rey minifigure today. I've not had one of these before, so it's a nice inclusion. There's only two other sets that have this version of Rey, so it's considered pretty hard to find. It's a shame the leg printing isn't very good quality.
Cam: Not too sure if everyone's is like this, but the printing on the legs here is blurry. I'm a bit disappointed, but nevertheless Rey is another good addition to the calendar. It would have been nice to see another exclusive sweater on her though.
---
Day 10: D-O
Now this is cool! D-O, the awesome little droid we met in Episode 9. He's got one heel and a cone as a head, and this one comes complete with a Santa hat! The printing looks great…
Cam: Not much of a 'build' this morning! Here we have D-O with a Christmas hat on. It's interesting that with the inclusion of the round 2×2 plate to help him stand up. Otherwise he's too heavy with the hat. This is my first D-O and I didn't realise how small he is. There's also a round 1×1 that is used to fit the hat onto the droid's head.
---
Day 11: Millennium Falcon
Today it's a Millennium Falcon, and it's rather different to what we've seen in previous years. We've had the fastest ship in the galaxy before, in 2015 and 2017, but they were much more chunky than this iteration. I really like this one! The subtle differences such as the dish make this look much more sleek.
Cam: Lots of pieces today! This was almost a challenging build using the one picture instructions. A fairly accurate build of the Millennium Falcon. Nothing too special but a nice inclusion. The front of the ship is a bit weak though, due to only a one stud connection.
---
Day 12: Porg
Last year on Day 24 we got a Christmas Porg, today at the halfway point on Day 12 we've got a standard Porg! I like these little guys, but it's possibly a little underwhelming as a build.
Cam: A little Porg build today, and the smallest build yet (even smaller than little D-O). I have got a few of these before, and this one is exactly the same. It would have been nice to have a Christmas touch to him. At least there's a printed head piece.
---
Day 13: Republic Cruiser
Today is another microscale ship – the Republic Cruiser, or the Consular-class Cruiser. It's a really interesting build with some nice colouring. I'm impressed.
Cam: A consular-class space cruiser build today, and it looks great. The right pieces were used for the job and really shapes this ship up at this scale. Lots of the cheese slopes in dark red if you ever need them too. All up a decent number of pieces and a decent sized mini build.
---
Day 14: Battle Droid
Aaah the classic Battle Droid. Not exciting or fun, but kind of good to have if you're building an army of these cannon-fodder droids. He comes with a blaster. We get these every year. Hopefully we don't have to get the other standard entry – the weapons rack.
Cam: A battle droid—really simple and a 'figure' that hasn't been changed in 20 years. Only thing not to complain about would be that you get two spare arms, another straight and another bent. Again, similarly to the Porg, Rey and Luke, it would have been nice if there was some kind of Christmas addition, but no, just another droid for the army.
---
Day 15: Trade Federation Battleship / Droid Control Ship
Another great ship build – this could be interpreted as either a Trade Federation Battleship, or a Droid Control Ship. Either way, it's a great looking build! These massive behemoth ships were around 3km in width. A really cool option for the calendar!
Cam: I really enjoyed this build. I have been waiting for a set to come out for the Droid Control Ship. For it's huge size it really only makes sense for it to be in microscale. Nice use of parts with the silver bowl piece and the arches. Exciting again that it's a build not from the sequels. It makes yesterday's battle droid a bit more justifiable as well.
---
Day 16: Anakin's Podracer
A clever little build today with Anakin's Podracer from The Phantom Menace. Good colouring and a super simple design.
Cam: Two days in a row of a build from Episode 1: The Phantom Menace. This micro pod racer is really quite great with good parts usage in colours to get the details in with limited pieces. The 1×3 tan plate is nice to hold the cockpit together but also if placed onto a bigger tan plate the model will look as if it is hovering like in the movies. This was a real nice little build.
---
Day 17: Pit Droid
Apologies for the delay in posting day 17's builds – I've landed myself in hospital with pancreatitis! I was just too weak to do anything yesterday. I'm here for a few more days, but will try to continue to post.
Day 17 brings us a pit droid. This is a cool little build, and instantly recognisable. These repair droids were often portrayed as hilarious bumbling troublemakers. Very cool.
Cam: Super excited to see I was building a pit droid this morning. I have never gotten one before and this was super cool. I like the design of it, however I feel as if the legs are a bit 'stumpy'. It's a bummer that he doesn't fold down into his off position but it's forgiven due to his nice stance. I'm starting to see a theme? The last 4 builds have all been from Episode 1: The Phantom Menace.
---
Day 18: Snowspeeder
Today we have a very shapely snowspeeder. I'm pretty impressed. I like how the plate under the craft gives it the effect that it's hovering.
Cam: A snow speeder today, nice to have another build from the original trilogy. Nothing too special, good parts usage and a structured design. I like the look of the cockpit with the orange at the back and the little cannon is a nice touch. Overall, a nice looking build and I'm excited to see what the coming last days before Christmas brings."
---
Day 19: Rudolph the Red Nosed Tauntaun
Well isn't this cheery! A brick built Christmas Tauntaun. When Cam sent me the pic I wasn't quite sure what to make of it, but it's kind of grown on me. I like the red nose on the face, but the feet are a little odd.
Cam: Personally I'm not too keen on this Taun Taun build. The shape and size and scale all checks out well but I think it just doesn't hit the spot. I do like the inclusion of the red nose however, a link to Rudolph – expected since this is the advent calendar. Not sure why they haven't done similar links with other builds. To be honest I'm counting on the next couple of days to be really good because this was a bit of a let down.
---
Day 20: Hoth Shield Generators
I'm out of hospital! Time to recover and get stuck into some more LEGO. Time to catch up on Day 20 as well.
We're on the home stretch, with Day 20 bringing us the Hoth Shield Generators. LEGO has had some issues with these before (I'm looking at you Assault on Hoth), so I'm glad they've got the right number of them! It's a simple build, but instantly recognisable for what it is.
Cam: This little build is interesting for me. The shield generators on Hoth have been built in LEGO before, with various amounts of criticism. I think this microscale one has been very well done. It's good to see the accuracy of having four of the 'rings' unlike other sets in the past (BB: Don't we think alike?). It's a small build, a bit stand alone because we haven't got much to go with it besides the Snowspeeder a few days ago. I'm happy with how this one turned out.
---
Day 21: Snowman GONK Droid
This is just brilliant, and hilarious! A snowman GONK droid! These have been seen before, but I'm so glad the designers have gotten a bit adventurous and gone crazy with this one. It's a fan favourite, so I'm sure this will make a lot of builders happy. With that gap for a mouth it looks kind of shocked!
Cam: Finally another build with a Christmas touch. I wish that there was more of these in the calendar. This snowman Gonk Droid is a quirky and strange thing to look at. The design of the Gonk has changed so much throughout the years and I'm not too keen on the brick built ones. However, with the addition of the top hat, carrot nose and green arms, you can't go wrong with having a winter Christmas touch to the droid. It would have been nice to get a spare carrot, but unfortunately that wasn't the case.
---
Day 22: Stormtrooper
We've got a stormtrooper today. One more for the collection. The helmet this year looks pretty awesome. There's loads of detail. Two days to go!
Cam: Another Army builder today, and I'm not mad about this one. I love having Stormtroopers. It's great for my Star Wars (Episodes 3 – 6) display on my desk. Of course with this trooper we have the newer dual molded head, which is nice, but you just can't spin the helmet…I think that's a bit of a big design flaw. Same prints on the legs and chest as per recent usual, and another black medium blaster. Not sure what else to say about this guy, besides that he's just a stormtrooper.
---
Day 23: Fortress Vader
The penultimate build for Star Wars is Fortress Vader, the imposing build first seen in Rogue One. The shape is immediately recognisable, and we've also got Vader's TIE Advanced at the front, using binoculars as the core piece. It's pretty cool. One to go!
Cam: A build of Darth Vader's Castle for Christmas Eve Eve. I enjoyed this build. It looks really good and I'm super glad they included the little TIE fighter with the castle itself. The build for the TIE fighter is amazing. It looks just like Vader's. The castle is also nicely built, quite a bit of SNOT, good colour choices and the lava flowing and the 1×2 grill are perfect for this microscale build.
---
Day 24: Christmas Vader
It's Christmas Eve, and as is tradition in the Star Wars Advent Calendar, it means one thing – the exclusive Christmas themed minifigure. Darth Vader in a Christmas sweater is awesome, and this torso is just fantastic. The Death Star print on it is amazing! I'm a big fan, and very jealous of Cam.
Cam: Christmas Eve, this year this is was the build that I was waiting for, and no not because of Darth Vader. That Christmas sweater is so good! I absolutely love it. The Death Star image on the front is awesome and I love that Star Warstouch. For the rest of Vader he is pretty stock standard. Not a sponge cape however which is disappointing. The helmet is the two piece with the neck and head and the legs are the newer printed Vader legs nothing special. But again, that Christmas sweater just gets me, looks great and definitely the highlight of the entire calendar this year.
---
While I'm sad that I missed the calendar this year, I'm super excited that I still got to share it with you, thanks to Cam! Here's his wrap up.
Cam: 2020's Star Wars advent calendar was really enjoyable. This was my first one in quite a few years and I feel like I have missed out on all the previous years now. The calendar is fairly well balanced in the end with 12 character builds and 12 ships or place builds. This includes 5 builds from the Prequel Trilogy, 11 builds from the Original Trilogy, 6 builds from the Sequel Trilogy, and 2 builds from other parts of the franchise. Also as you can see there is a vast array of useful spares to add to your own collection.
This year my top three builds are:
1. Darth Vader, that Christmas sweater is just so nice.
2. Luke's Tattooine Home, perfect scale using the pieces and looks amazing.
3. Vader's Castle, the little tie fighter with just 3 pieces is super identifiable and the scale of the castle and the pieces used cannot be faulted.
As amazing as these three builds were for me there were a few that let me down a bit too.
1. The Battle Droid, every year without doubt there has to be one, it's just not unique and a boring figure.
2. The Taun Taun, This one legged creature I think could have been done better, however this red nose touch does help to redeem itself a little.
3. The Razor Crest, now this one I'm thinking would be lots of peoples favourite, however I think it is not scaled right. The ship seems too long and the engines on either side are too small. It doesn't do the awesome ship justice at all and I believe LEGO could have done heaps better.
Overall I still really enjoyed building these each day, there are a good amount of minifigures included and an awesome set to actually play with if you wanted to.
A huge thanks to John for letting me be a part of the blog here too, it was an absolute treat and nice to chat about each of the builds everyday too (Oh, and him reminding me to actually send through my photo and blurb for the day). Cheers John, Merry Christmas to you, and all your readers out there
Cam.
Thanks Cam! It's been a fun month doing this together and the messages back and forth.
Thank you to all of you for following along with the calendar this year. It's been a big month! In the coming week I'll be preparing my 2020 Reflections article and then in the new year I'll be releasing the results of the Top 5 Sets for 2020 poll, and who the winner is! We've had a lot (I mean a lot!) of entries.
Merry Christmas to Everyone, and have a great New Year's break.