Theme: Harry Potter
No: 75978
Release Year: 2020
Cost: AU $599.99
Pieces: 5544 (with 17 minifigures)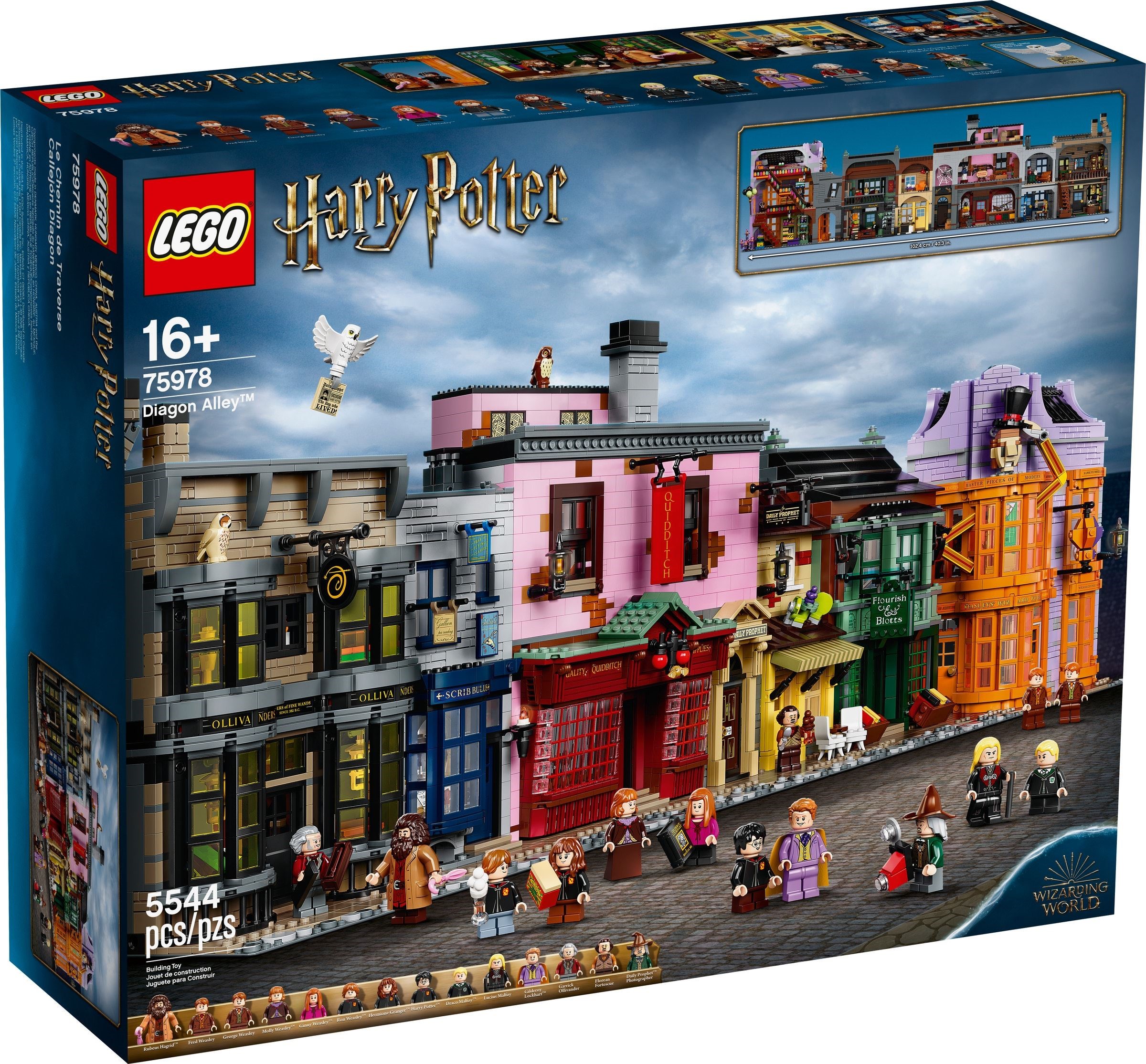 LEGO has released some huge sets this year from a wide range of themes – 10272 Old Trafford, 42115 Lamborghini Sian, 21323 Grand Piano, 10273 Haunted House, the more recent 75290 Mos Eisley Cantina, 71374 Nintendo Entertainment System, 21322 Pirates of Barracuda Bay, and that's not including a lot more. Those all range from 2,500 pieces to almost 4,000, but 75978 Diagon Alley tops them all at an incredible 5,544 pieces.
This is easily the biggest set I've ever built, and it's the fourth largest set ever released by LEGO, beaten only by the Taj Mahal, Hogwarts Castle and the Millennium Falcon.
With four separate builds on 16×32 plates, representing six buildings in Diagon Alley, plus 17 minifigures, this set is chock full of detail. I amounted this set to be like building four modulars in one set. There's that much attention to detail, it's staggering.
Inside the very large box are 40 bags of parts numbered one to 20, a smaller sneaky box that wasn't shown in the official images we received, four different manuals – one for each building, and stickers, oh so many stickers. There's one sheet for each instruction manual, adding up to 109 stickers.
This variant of Hogwarts robes is brand new and unique to the set – they look beautiful. Harry, Ron and Hermione all share the same torso, with different coloured short legs – the faces of Ron and Hermione we've seen before, but the alternate Harry face is with soot after going through the Floo Network at Borgin & Burkes.
Ginny, Molly, Fred and George Weasley are next. Ginny also has a unique torso, a pink blouse. Molly's torso is very nice, with the lavender ruffles really showing through. There's also a hood at the back. I realise she's older, but I'm not a fan of the head on this minifigure. Something about the mouth. Fred and George have slightly different torsos, and different heads. They look really good, with the Weasleys' Wizard Wheezes W emblazoned on their ties. The heads are also great – George has a brilliant laughing alternate face.
Garrick Olivander has been seen in LEGO before, but the torso print is great nonetheless. With a detailed jacket and cravat, he carries a brand new wand box, of which there are plenty in this set! A wand can neatly fit inside, topped off by a 1.3 tile. Florean Fortescue shares the same hair mould as Olivander, albeit in a different colour and wears a very nicely printed waistcoat. He's also got another new accessory – the trans-orange dessert glass! These are excellent.
Gilderoy Lockhart, with his 'charming' nature looks brilliant in a lavender suit and double sided cape. He's got an alternate face which is fantastic – he's nervous about something but still wanting to put on a show! It's fantastic. Gilderoy includes two copies of his book Magical Me.
Draco and Lucius Malfoy look perfectly evil here, with some beautiful printing on Lucius' torso and legs. His hair also looks excellent, and while he's got a pretty generic head, I think it works well. Lucius carries a 3L bar as his walking cane, although it's pretty boring. The Daily Prophet Photographer has an excellent hat (although it's a bit big), and unfortunately short legs. I didn't think he was that short in The Chamber of Secrets so he could have gone with the middle legs but in any case the torso is excellent.
Lastly, there's the mystery box with the big 21 on the side, and "Silencio! Keep it between us.". Inside this is a stand and large tile, with Hagrid and yet another Harry Potter variant – this time in his blue checked shirt when he and Hagrid first visit Diagon Alley. I love the print here. Hagrid also looks fantastic, and it was a nice surprise getting an extra Harry and the exclusive tile. It would have been awesome to get a rotating wall effect somewhere, but this is still nice.
There's seriously so much in this set, it's pointless to go through the nice parts, so let's just dive in. The model is absolutely stunning. There's four separate builds connected by Technic pins, but they can also connect back to back. You won't get to see the internals, but the roofs of Quality Quidditch Supplies and Weasleys' Wizard Wheezes line up perfectly, as does the entrance to Knockturn Alley and the internals of the Daily Prophet.
Each build has a narrow section of dark tan pavement and some cobblestone street. First up to explore is Olivanders Wand Shop. The large curved windows are beautifully executed and the whole facade looks near perfect. The stairs by the door are missing, but the bars under the windows are there, so it's pretty solid. I'm not sure why the windows are trans-yellow, but I guess it's to show the warmth inside? I'm not sure it works. The sign hanging above looks superb, as do the chimneys and owls. The movie version of the building is taller, but this looks good.
Inside is a beautiful assortment of wand boxes seemingly just shoved in a shelf. It's perfect. I also love that a wand box is able to be sticking out too, ready to be purchased. It's a great play element. The staircase up to the top floor is able to be smoothly swung out of the way to reveal more wand boxes.
Upstairs there's more wands in boxes, as well as a green chair, a ladder and a beautiful desk including a very clever representation of an open drawer, using a rocker bearing and 1×2 jumper plate.
Next door is Scribbulus – the stationery store where students get their required items for their first year at Hogwarts. It's a smaller building but looks beautiful with the blue accents. There's a worn out Scribbulus sign above the door and some advertisements for the store hanging above, plus the new flying variant of Hedwig carring the Daily Prophet, attached by a trans-clear bar and plate element.
Inside is a rack of quills and inkwells, a writing desk and an ornamental scroll in the window. Upstairs is a large couch and rug, and some creepy looking items on top of a chest of drawers.
Quality Quidditch Supplies is a vibrant pop of colour! There's the dark red, forward leaning shopfront, perfectly executed with the use of a couple of Technic pins, and all that bright pink. It's probably a bit bright compared with the movie reference, but it still works.
The patches of unrendered bricks look really good (the reddish brown bricks under the roofline look a little off), but the lower front of the building is my favourite here – that awning roof is beautiful. The gothic influences of the Daily Prophet are also very nicely done and match perfectly to the source material.
Inside is a much neater shop compared to next door, with Quidditch robes neatly folded and stacked under the brilliant Nimbus 2000 in the window. There's also a variety of Beater's clubs on a rack, as well as a Hufflepuff robed mannequin holding a broom.
Upstairs are more robes, a bat and a couple of quaffles, and a Ravenclaw uniform on display, as well as some broomsticks available to take for a test flight. Inside the office for The Daily Prophet, there's surprisingly not much!
With a wall of posters and pages from the newspaper on the side, a box of newspapers on the opposite wall, and a spiderweb overhead, I think they paid more attention to what it would look like with the Knockturn Alley entrance in front of it. There's also a small attic upstairs with some boxes and more newspapers.
The third building is easily my favourite facade. It's stunning! Florean Fortescue's Ice Cream Parlour is first, with a sunny and cheery bright light yellow paint job and awning. The awning uses black lipstick elements as supports, and it's brilliant! I didn't realise what they were until I added the awning itself.
The separate chairs and table are stunning, but one knock of the set and the chairs will move, as they aren't connected. There's also a small set of chairs and table on the lower roof, as a sign for the shop. The roof of this shop is just awesome. Using 1×2, 1×3 and 1×4 roof bricks, it has a really clever texture.
Inside the parlour is a black and white tiled floor, and curved counter. There's not a lot of visible ice cream inside though – the only one has already been put in a cone! Another of the trans-orange dessert glasses is on the shelf behind, with a menu on the opposite wall by the door.
Upstairs is presumably Florean's quite room, with a rug, beautiful armchair and lamp, and a table and a pot of tea waiting for him.
Next up – Flourish and Blotts Bookstore! The colour scheme of dark green and sand green, with the bay window at the top is beautiful. There's black gargoyles in each corner created using minifigure flippers and dragon heads, and a collection of books at the front of the building. The different spines used throughout this build is really well thought out. The advertising panels wrapped around the centre of the building are eye catching as well.
Inside are more bookshelves, a haphazard stack of books that looks fantastic, and some nice collection signage along the beam at the top – Dragons to the left, Alchemy to the right. There's more bookshelves upstairs, and a nice book display on show, with the instructions for the Wingardium Leviosa spell.
There's also a separate desk for Gilderoy Lockhart's signing, complete with a large stack of Magical Me next to it, ready for signing.
The final building is Weasley's Wizard Wheezes, and it is nothing short of spectacular. Matching near perfectly with the on screen version from The Half-Blood Prince, this bright and cheerful building perfectly contrasts with the dark and sinister entrance of Knockturn Alley. The orange and lavender building just screams mischief, and the large representation of the hat doffing statue of the twins is just perfect.
It's great to see the torso and legs represented inside the windows too. There's no rabbit under this hat, which is a shame! The detail in this building in particular is mindblowing. With large stickers on the outside and countless more little ones inside, plus light bluish grey and lavender masontry bricks mixed in, this is a stunning building. It's missing a floor, but it's definitely forgivable.
Inside the store is a multicoloured staircase and bright displays everywhere. The use of Minecraft heads as product boxes is perfect! The tall spinning displays look great, although they don't spin here.
There's also the love potions stand, represented here with trans-pink heart crystals and upside down radar dishes. It can't fit inside, but still is a nice extra build. The colours in this building are beautiful. With clever little displays on all three floors using seemingly innocuous elements, it's a fun building to explore.
This is one heck of a set. It took a long time to build, but I enjoyed every minute of it. It's chock full of detail and is just enormous! I would have loved to have seen Gringott's Bank included, but the buildings they have got are superbly executed.
ELEMENTS & MINIFIGURES: 19/20
SWOOSHABILITY: 17/20
BUILD: 19/20
DESIGN / APPEARANCE: 19/20
VALUE FOR MONEY: 7/10
COLLECTIBILITY: 10/10
OVERALL: 91/100
A special thank you to LEGO for sending me a copy to review. All thoughts on this set are my own and are not influenced in any way, shape or form. The provision of sets for review does not guarantee a favourable review.