Theme: Harry Potter
No: 75979
Release Year:
Cost: AU $69.99
Pieces: 630 (with one minifigure)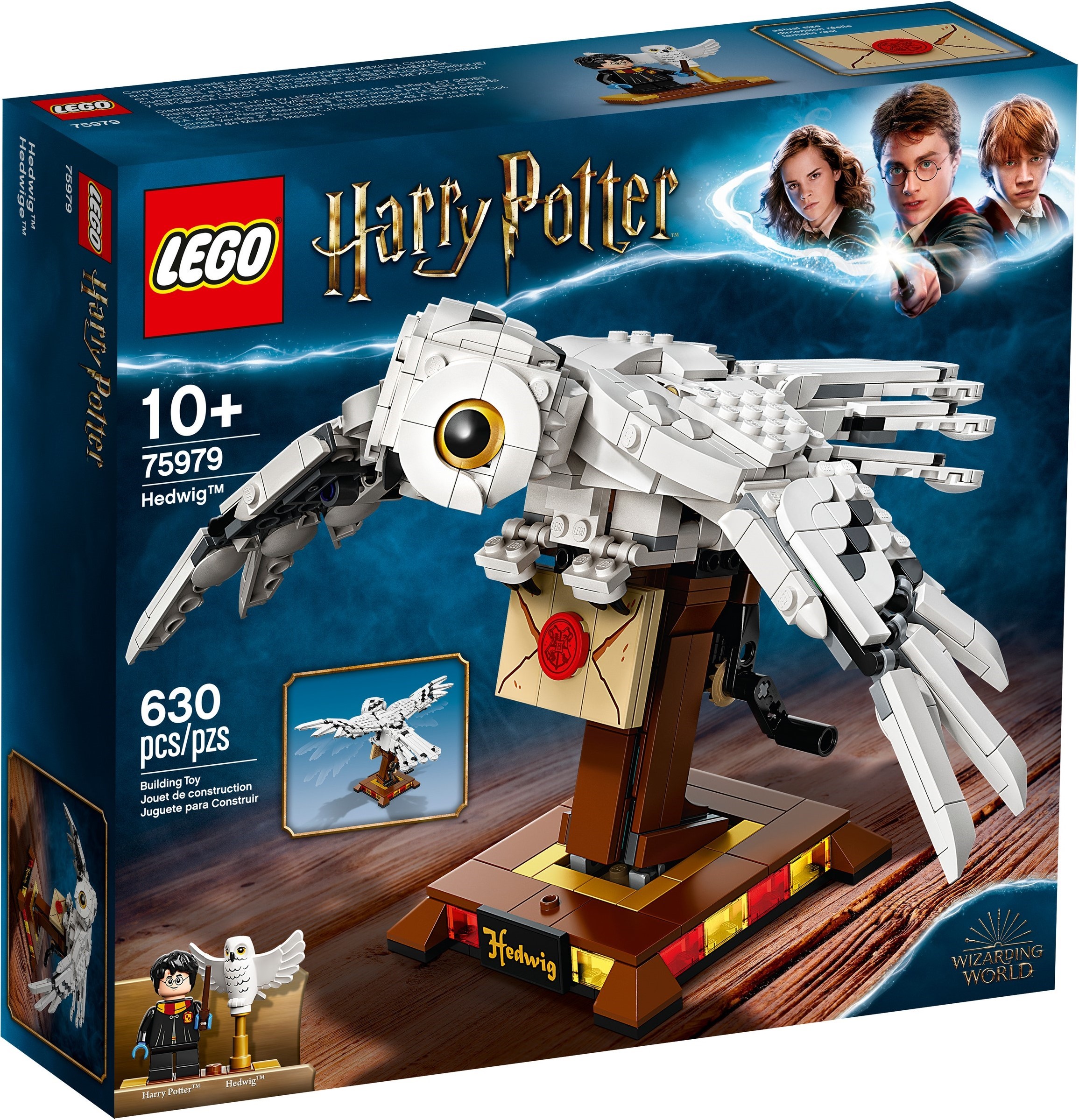 Normally, Harry Potter sets are location based, with a building or two, and a bunch of minifigures. It's a tried and tested formula. This set, then, is a bit of a different tack, and I absolutely love it.
75979 Hedwig is not just a great looking build of Harry Potter's pet owl, it's also a kinetic sculpture, something that AFOLs are big fans of, and have been creating for quite some time. Inside the box you will find four numbered bags, an instruction sheet, and a sticker sheet with four stickers.
There are predominantly white parts in this set, with some brown, but included in this are loads of tiles and sloped tiles, a good selection of quarter circle 1×1 tiles in black and white, and some Technic elements in for good measure.
Not only do you get a beautiful kinetic sculpture, but you get a minifigure and a new Hedwig owl element, with open wings. Harry Potter features in this set as that little first year Hogwarts student with blue gloves, Hogwarts robes and a Gryffindor scarf, when he is given Hedwig on his 11th birthday by Hagrid.
The new flying owl element is a beauty, with loads of detail. I'm excited to see more variants of this in the future.
The actual build begins with the stand. I like how it features the Gryffindor colours in transparent yellow and red 1×2 bricks around the outside. It's nice and subtle. The neck of the stand sits at a slight angle which helps to appear that Hedwig is coming in to land. At the back is the double sided hand crank. Make sure you turn it the right way, as the other way will lead to the wings looking like they're scooping up.
At the front of the stand is a letter that Hedwig is appearing to be holding. It's a nice touch and a nod to the Owl Post delivery service in the Harry Potter universe.
The owl itself is just stunning, with beautiful sweeping curves and angles thanks to clips, wedge plates and curved wedge plates. The proportions are brilliant – it just looks so natural.
The black spots are mimicked nicely with black quarter circle tiles, and I like how the wings and tail can be fanned out slightly. The head is also able to rotate, just like an owl's, and gives Hedwig a sense of playfulness and curiosity that I just love.
The head is also stunning – the little beak and large eyes just adds to that expressiveness. Hedwig in the movie had smaller eyes, but it would have looked weird on the set. Having these larger eyes also adds to the cuteness of the build, which would be more appealing to buyers.
The wings are double jointed, in the middle and by the body, which gives it that organic movement. It's really beautiful.
There is a slight and sudden drop on the downward motion which is a bit of a shame, but the rest is so good it's easily forgiven.
This is an absolute cracker of a set. For $70, it's an enjoyable build with some excellent wing flapping fun included. It's also a great way to get the new 2020 owl if you haven't already.
It's great to see LEGO doing another kinetic set. Last year's Chinese New Year Dragon Dance was another excellent one, and this has stepped it up again. I hope we can see more kinetic sets in the future.
ELEMENTS & MINIFIGURES: 17/20
SWOOSHABILITY: 18/20
BUILD: 18/20
DESIGN / APPEARANCE: 19/20
VALUE FOR MONEY: 7/10
COLLECTIBILITY: 9/10
OVERALL: 88/100
A special thank you to LEGO for sending me a copy to review. All thoughts on this set are my own and are not influenced in any way, shape or form. The provision of sets for review does not guarantee a favourable review.