Theme: LEGO Marvel Super Heroes
No: 76115
Release Year: 2019
Cost: AU $79.99
Pieces: 604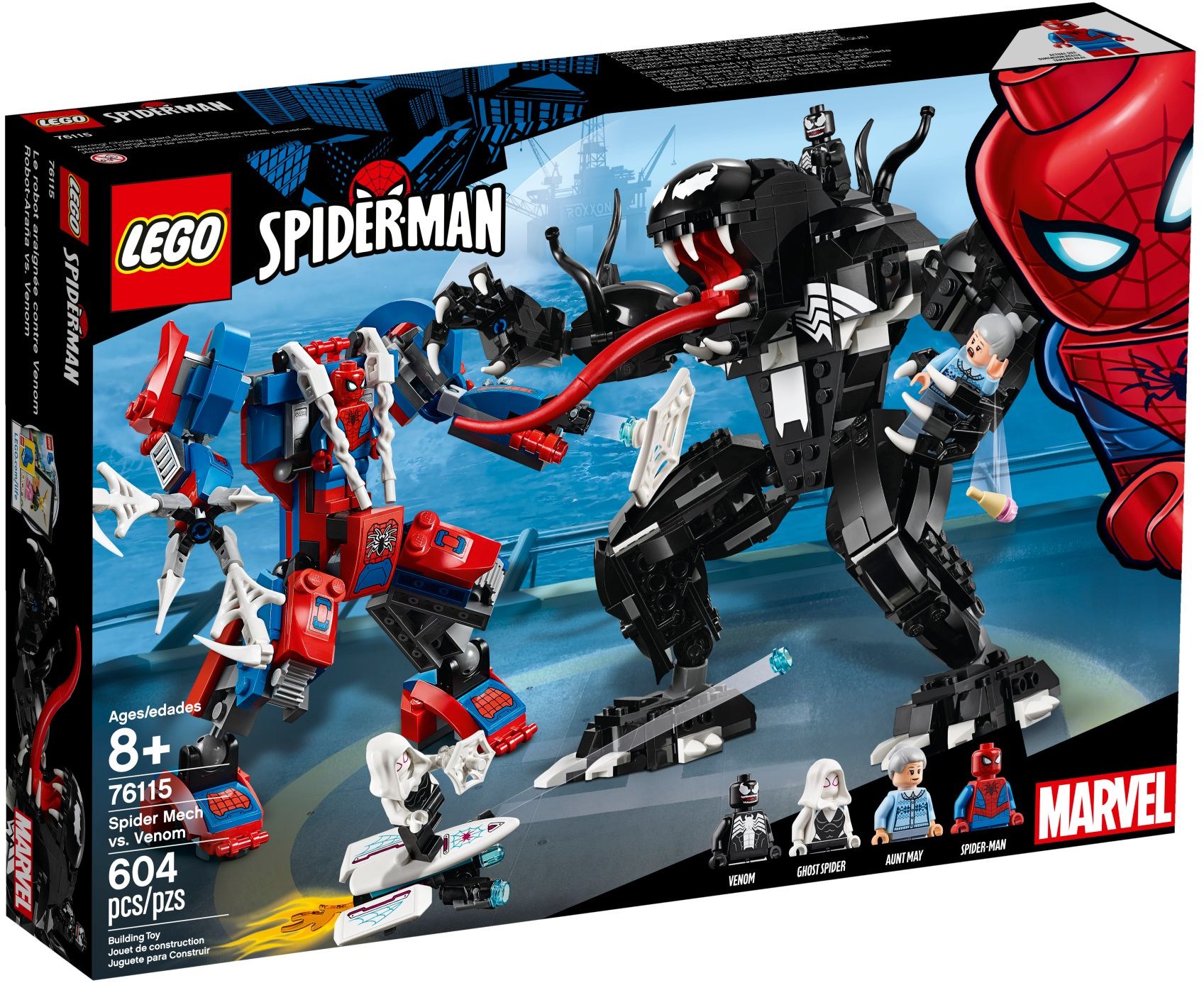 This one came up on my radar (admittedly a while ago) simply because I'm a big fan of Venom. Look at that monster! It's amazing! I took this one to my LEGO Group's build night, so I didn't get any photos during building – only after I got home. Let's take a look, for the first review of 2020.
There's a few new elements to be found in this – Venom's large eye shell, the minifigure head and torso for Venom, Aunt May's torso is a new print, as well as the head and torso for Ghost Spider. Also, while it's not new, the spider web accessories kit is a great addition. It's been seen a few times this year in other Spider-Man sets, but it's a first for me. The spider studs are also a nice touch.
There's four minifigures in this set – Spider-Man, Venom, Ghost Spider (also known as Spider-Gwen), and Aunt May, who has an alternate face print.
Spider-Man has a beautiful print on his torso and face – the eyes have some shadows in them to give them some depth. They look excellent. This is the new design for 2019, so it's great to have an updated Spidey.
Ghost Spider, Gwen Stacey, looks a little more bland – she's missing the webbing between her arms and torso and inside her hood, which I understand, but there is a little bit of it at the back and just underneath her hood. The printing at the back looks particularly good. Ghost Spider's eyes are also a little more dead, as there's no shadowing.
Aunt May is wearing her hair in a bun, and has a light blue knitted cardigan on. The printing is fantastic, and she's got an ice-cream in her hands and a scared alternate face.
Venom is the highlight though. The menacing symbiote looks superb here – with a fearsome face showing just a hint of that tongue, and the torso print looks great. The muscles are spot on.
Ghost Spider rides a rather large hoverboard. In LEGO terms, it's a surfboard with a whole lot more strapped to it. We've got twin stud shooters, fire coming out the exhaust and some paneling on either side. It's bulky, but pretty cool to fly around annoying Venom.
The Spider Mech is a pretty quick build, and it's not that large. Mechs can be a real hit or miss. They either are too small and look weak, or are huge and cost a fortune. For the most part, sets this size tend to go for the former. It's a little spindly, but it still looks pretty cool. The red and blue is vibrant, and the webby elements add something extra.
It's also rather poseable, having ball joints in the ankles, hips, shoulders and elbows. The hands can also be swivelled – the big claw hand looks brilliant. There's no knees, but given it's so small, it wouldn't have added much, and may just have been a point of structural weakness.
Spidey can jump in the cockpit and drive by holding the levers, but he's very exposed! Maybe there's a forcefield? There's also a few stickers here and there.
On to the big guy – Venom. Personally, I don't think this is a mech. It definitely is designed to be. It's got control points and somewhere for the Venom minifigure to stand and control the levers, but Venom is an organic symbiote, and can change his form at will, to grow or shrink if need be. Surely this should just be a bigger Venom?
In any case, he looks phenomenal. With loads of articulation points (except in the head), this is a mean, muscular looking monster. The huge tongue can be rotated around and looks so bright compared to the rest of him.
There's a few stickers on the chest to display the white spider, and the big hands and feet can be positioned very easily.
This is one of my favourite models this year. It's small and fantastic! There's loads of ways to position them, and endless stories you can tell, especially if you have a modular street handy! For AU $80, this is worth a buy if you like Spider-Man, as Venom is a classic villain and a must have in the collection. It's an enjoyable build that doesn't take too long, and will have a great amount of play in it.
ELEMENTS & MINIFIGURES: 18/20
SWOOSHABILITY: 17/20
BUILD: 16/20
DESIGN / APPEARANCE: 18/20
VALUE FOR MONEY: 7/10
COLLECTIBILITY: 8/10
OVERALL: 84/100
A special thank you to LEGO for sending me a copy to review. All thoughts on this set are my own and are not influenced in any way, shape or form. The provision of sets for review does not guarantee a favourable review.