Theme: Seasonal
No: 80104
Release Year: 2020
Cost: AU 99.99
Pieces: 882 (with eight minifigures)
Last year's Chinese New Year sets were something really special. Unique, hard to find and simply stunning, everyone was hoping that they were going to continue. Well, continue they did! I realise I'm a bit behind on these posts, but here are my thoughts anyway.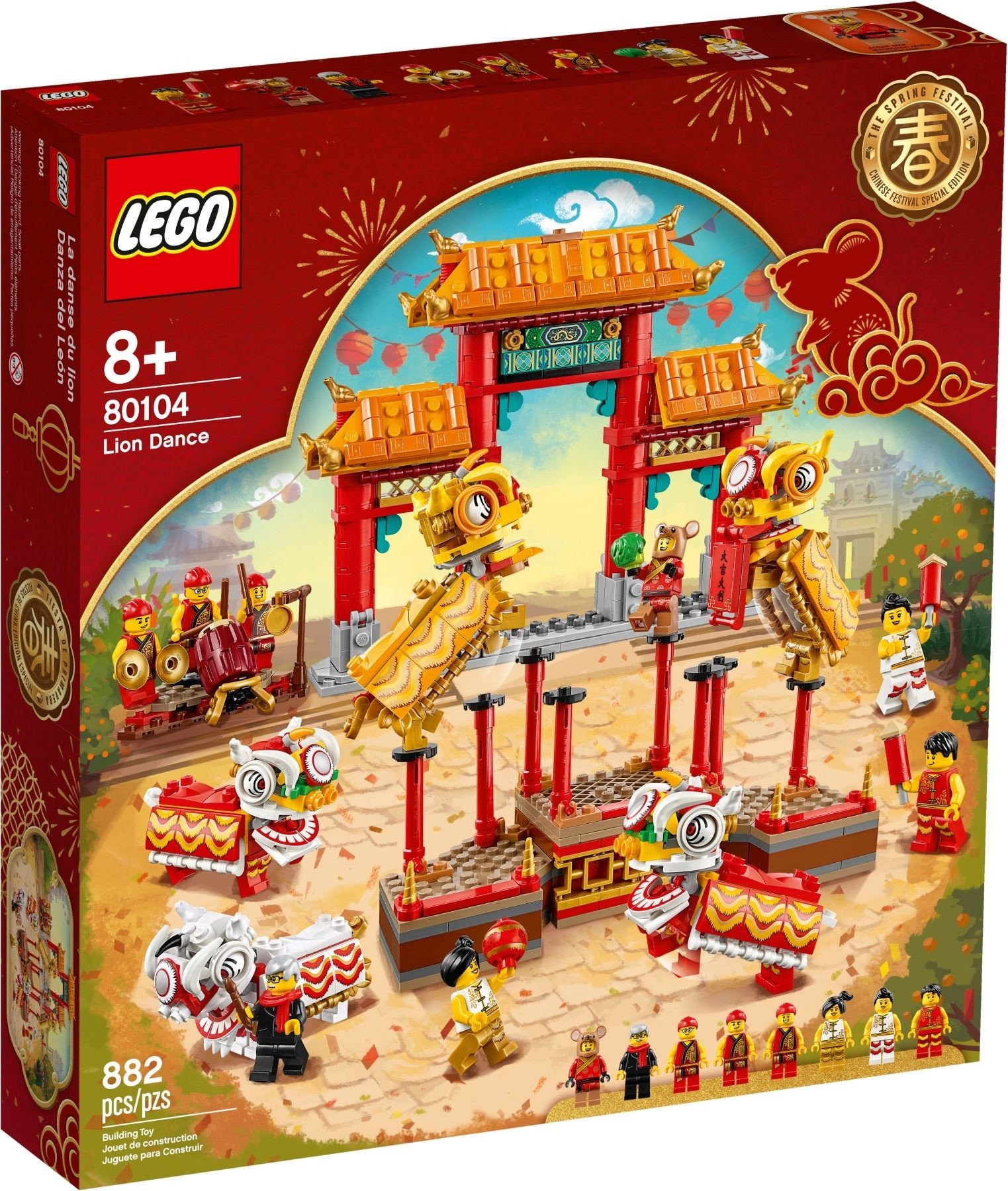 80104 Lion Dance contains a whopping eight minifigures, five lions, a stage, temple arch and band setup. Normally, in the real world, there are two dancers in the lion costume, balancing on tall poles and doing all sorts of amazing acrobatics. It's awesome to watch.
The elements in this set are beautiful – so detailed and vibrant. Firstly, let's take a look at the minifigures. There's the band members (three of them), the mayor, three extra Lion Dancers, and the Rat Suit Guy, as it's the year of the rat. That is a lot of minifigures for a relatively small set!
Rat Suit Guy is a brilliant bonus – the costumed minifigures are always a lot of fun to collect, and this is a new one! He's got a red robe and black sash, and for some reason his alternate face looks like he's ready to throw up. Not sure why, but it's great to have another copy of this head.
The dancers and musicians have very highly detailed torsos. The dancers in particular have the frills on the legs – just like a Lion Dancer's costume. It's very nicely done. They also have some nice accessories – fireworks and a decorated red ball, used to attract the attention of the Lion Dancers, and I love that the space wheels get a return in the form of a drum.
The mayor is a bit less exciting, but he does have a nice red scarf.
The performance stage consists of plates at angles and vertical poles. It's simple, but really well designed. It's fantastic. There's a stud at the top of each pole that allows for the lions to be balanced securely on them. They're surprisingly sturdy even when only secured with one stud. Also included in the accessories is a green hairpiece and lime minifigure head – meant to represent a head of cabbage, and a red banner. I didn't know what this meant, so I turned to the interwebs.
During the Chinese New Year, lion dance troupes will visit the houses and shops of the Asian community to perform the traditional custom of "cai qing" (採青), literally meaning "plucking the greens", whereby the lion plucks the auspicious green lettuce either hung on a pole or placed on a table in front of the premises. The "greens" (qing) is tied together with a "red envelope" containing money and may also include auspicious fruit like oranges. In Chinese cǎi (採, pluck) also sounds like cài (菜, meaning vegetable) and cái (财, meaning fortune). The "lion" will dance and approach the "green" and "red envelope" like a curious cat, to "eat the green" and "spit" it out but keep the "red envelope" which is the reward for the lion troupe. The lion dance is believed to bring good luck and fortune to the business.

Lion Dance – Wikipedia
What's better than the stage? The gate – it's stunning. The build is actually surprisingly simple, and yet it looks beautiful! The little patches of teal are a very nice touch, but the vibrant red and orange structure just pops.
The roof is made from orange bullions, gold frogs and semicircle 1×1 tiles – just beautiful. There's also a tile of a golden dragon next to two jade flowers – the designers have gone all out with this.
The drawcard for me (and many others), though, was the dragons. We get five of them! A white one, two yellow, and two red. The parts seem so bizarre, but come together so well. Bananas, frogs, leaves, teeth, tiles, flowers, eyes and bowls are just some of the parts that make up these lions, and let's not forget the minifigure legs! Such a clever inclusion.
The heads and tails move up and down, and the jaw can open and close as well, and not a sticker in sight!
Put them all together and you get a stunning set that's a perfect follow up to the 2019 Chinese New Year releases. There's plenty of play options included – dancing the lions around was fun, even for a 35 year old! I'm really looking forward to building the Temple Fair now, and putting them both together.
ELEMENTS & MINIFIGURES: 18/20
SWOOSHABILITY: 18/20
BUILD:18 /20
DESIGN / APPEARANCE: 20/20
VALUE FOR MONEY: 10/10
COLLECTIBILITY: 10/10
OVERALL: 94/100
A special thank you to LEGO for sending me a copy to review. All thoughts on this set are my own and are not influenced in any way, shape or form. The provision of sets for review does not guarantee a favourable review.