Theme: Seasonal
No: 40424
Release Year: 2020
Cost: US $12.99 (not available in Australia)
Pieces: 149 pcs (with two minifigures)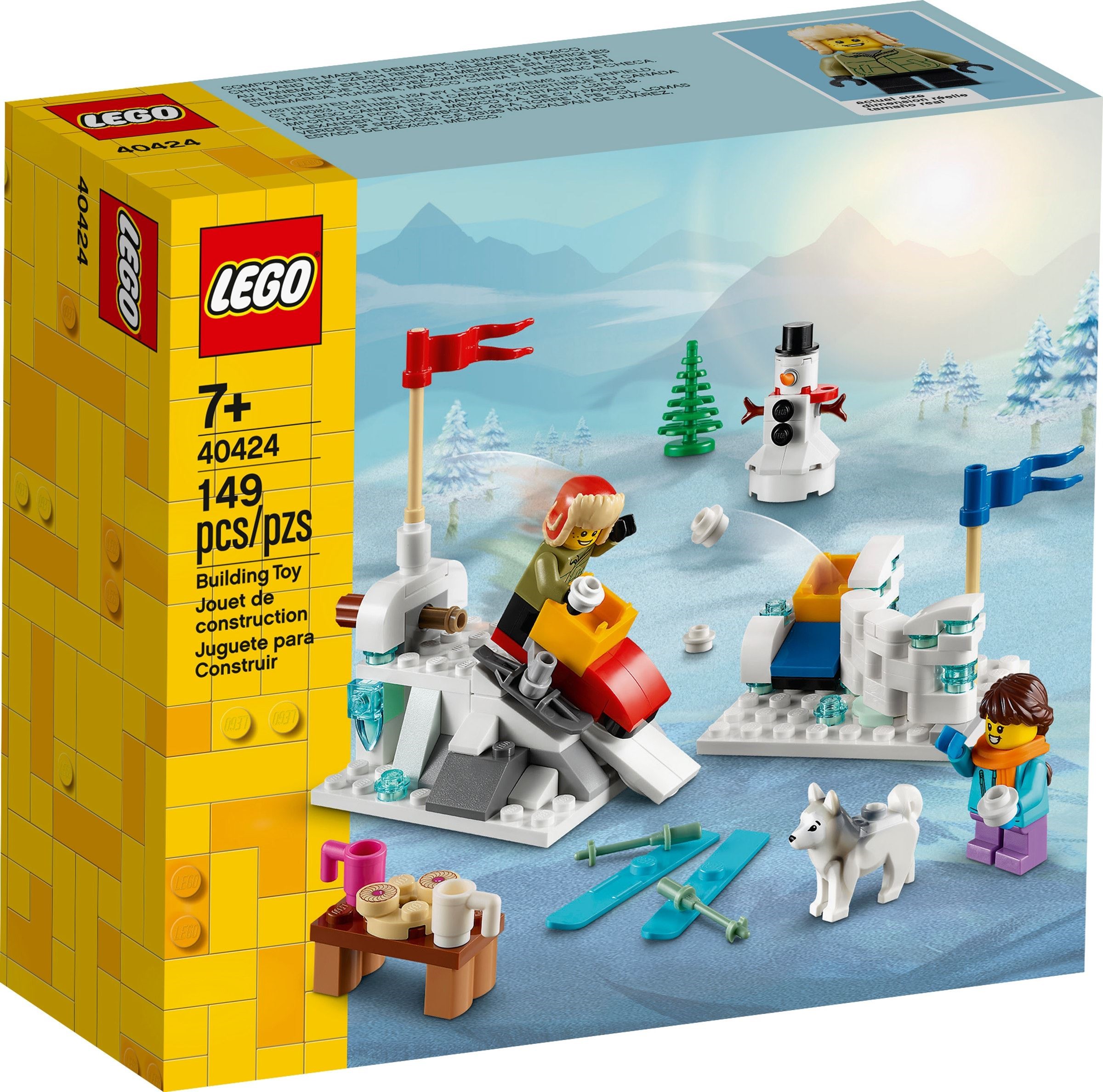 While Australia has just finished with winter, we don't get snow where I come from. Winter for me is just wet and cold. I do love seeing snow, but it's rare! That's why I like these winter sets so much. They just look like a lot of fun. Unfortunately this set isn't available in Australia – only the US and Germany as far as I could tell, but it's relatively easy to recreate, if you're willing to substitute a couple of pieces.
Those unique torsos – a girl in a light blue zip up hoodie and a boywearing an olive green puffer jacket – are great new additions to an already extensive winter range. There's also a tooth plate in transparent light blue which is quite rare, plus another mini scarf and an excellent hat which we've seen before, but it's nice to have another.
The girl wearing the light blue hoodie also has a pair of skis and poles. They also have a dog with them – a husky.
The builds include a nice ramp and sled – the ramp has a simple play feature. Push the axle to tip the sled forward. I like it.
There's also a snow fort with a curved wall and simple catapult. It's good to see this technique put to use in a small set.
Snowmen designs seem to vary each year, and this is another design I've not seen before. The shaping of the bottom is nice, but the 2×2 coupling plate as a scarf is especially clever.
The final build is a table with some mugs and a plate of cookies.
It's a bit of a variety of typical winter vignettes, and with some simple imagination, they can connect into a quick story. This is a good little parts pack if anything, with the torsos as the highlight.
A special thank you to LEGO for sending me a copy to review. All thoughts on this set are my own and are not influenced in any way, shape or form. The provision of sets for review does not guarantee a favourable review.