The LEGO Group has been producing sets in their Seasonal range for some time now, and it of course includes sets themed around Valentine's Day. There's probably a lot of you saying "Yeah, but any set could be good for Valentine's Day! I love my partner and they love LEGO!".
This is true, but there's three in particular that I've built recently, and while it's not the recently reviewed Flower Bouquet, it's close! Two of them are not actually Seasonal sets, but sit with the Botanical Collection theme. I'm thinking of 40460 Roses and 40461 Tulips, plus the Valentine's set – 40462 Valentine's Brown Bear. They're all small sets, but I thoroughly enjoyed building them. It's still not too late to get them something! Let's take a look one by one.
40460 Roses
After building the Flower Bouquet, I was really excited to see what else would come in the Botanical Collection. Sure enough, there's two more. They've been around since the Collection was released – both the Roses and the Tulips can be seen on the back of the Flower Bouquet box.
The rose heads are built in a very similar fashion to the roses in the bouquet, with a couple of minor differences. There are small green leaves, using ______ underneath the petals, and I've noticed that the exterior petals using 4 wide car bonnets are slightly offset from the 'original' roses.
The stalks use a different "leaf" element. Gone are the pterodactyl wings, with the NEXO Knight canopies in green replacing them. They look much more appropriate. The stems are different from each other in that one has two angled connectors to get the flower drooping a little. It looks good. I'd love to get another five copies of the set, just so I can have a full dozen!
40461 Tulips
Being of Dutch heritage myself, I love that tulips were chosen as a set. They've got long lime green stalks and interesting leaves, using claws from old HERO Factory sets, they're new in green, and look a little odd but work well.
The heads are the same design, but different colours – white, bright light yellow and medium lavender, with a 3 stem stalk as the stamen in reddish brown to finish them off.
The core of them is using the new (and immensely versatile) Brick 1x2x1 2/3 W/ 8 knobs.
Overall, these two flower sets are a great way to get stuck into the Botanical Collection if you haven't ventured in yet. As an entry level flower build, these are sure to get you wanting more. The colours are vibrant, especially in the bold red roses, and if your partner is a LEGO fan, they might enjoy them.
On to the last build!
40462 Valentine's Brown Bear
I'm so glad that we've seen the last of the Seasonal BrickHeadz. They were getting a little old. It's nice to see something new, in the form of animals on brick built bases. Another will be coming at Easter.
The base hides a little secret message, which is a nice touch. I just wish it was easier to take the top off to show people. I know it's probably silly, but I think it would be a nice touch. Of course, once the green plates are added, it's obscured from view. The picnic blanket is also paired with three "floating" hearts, mounted on transparent bars and studs.
The bear is of course full of SNOT building, and there's a multitude of colour to help even novice builders out. I like the way the legs are added. It's very organic.
The head has a good shape to it, with round 2×2 plates used as ears. There's not a whole lot of detail to the arms, but they do move up and down, thanks to 2×2 turntables. There's no friction, though, so they end up falling down.
The bear also has a very round backside and a cute little tail! Hilariously, my three year old saw the tail and said "Dad, it's doing a poo!". Now I can't unsee it. Once placed on the base, it's able to be turned more, thanks to yet another turntable under that round backside.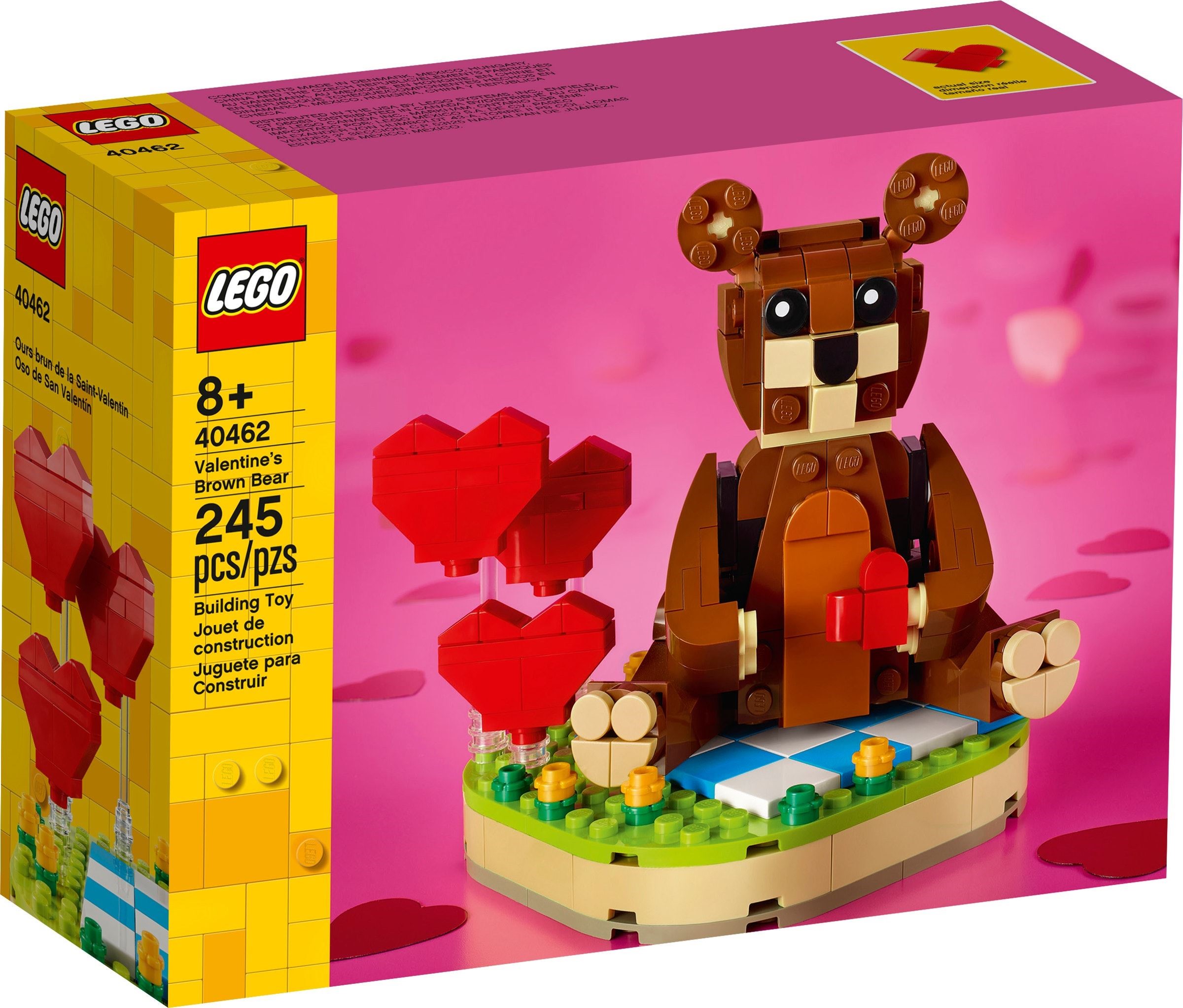 There's also something very interesting with this set – the box artwork and the instructions are all showing a mistake, even the 1:1 scale diagram. The heart the bear is holding is built wrong! In every printed version of the set, it's got a 1×1 half cylinder element rotated 90 degrees too far.
Even with that, this set is a nice build with lots of charm. It's a quick build, but will be great for younger LEGO fans, or that special someone for Valentine's Day. It may be tomorrow, but it's never too late to order more LEGO.
A special thank you to LEGO for sending me copies to review. All thoughts on these sets are my own and are not influenced in any way, shape or form. The provision of sets for review does not guarantee a favourable review.