Huge news seen on Brickset this morning! City is venturing into Wildlife territory with three new sets most likely releasing during June. Let's dive in and check out the new animals!
60300 Animal Rescue ATV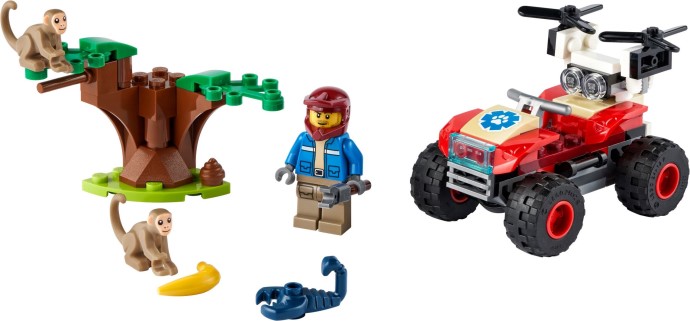 It's the smallest set in the bunch, but it's got some new monkeys! With a hook tail and a clip hand, these look super cute. I also love that this set has some poo, so we can get the monkeys to throw it.
60301 Animal Rescue Off-Road Vehicle
Up next is what looks to be a bit of a bigger 4+ set, with two new animals and a recolour! A new lion and lion cub (awww), and a printed python. We've seen this mould before as Nagini from Harry Potter, but it wasn't printed. Nice to see the shepherd's crook available outside Toy Story sets too.
60302 Animal Rescue Operation
Lastly there's this one with elephants! Yes! We get a big one and a little baby one. It's a shame they're not poseable, but it's great to have them back. It's been a long time! There's also a monkey with a bandage on it's arm, and an egg with an eye printed on it!
As an animal fan, I'm amped for these! Let me know what you think in the comments.