LEGO Con is done and dusted and we have seen some incredible sets and things coming out to celebrate the 90th Anniversary, among other things. Before we get to the reveals, what else was on show?
Hosted by Jeff Winger Joel McHale and Vick Hope (So good to see the big Community star back! There was also a LEGO Masters Live competition with three teams from previous LM seasons from around the world – Finland, US, and Denmark, and plenty of pretty terrible jokes and rather big stars from across their different IPs.
On to the reveals!
76218 Marvel Sanctum Sanctorum
2708 pieces | August 1, 2022 | 249.99EUR / 249.99 USD/ 349.99 AUD / 214.99 GBP / 279.99 CAD
This 2,708-piece recreation of the Sanctum Sanctorum, the notorious residence of Doctor Strange, incorporates classic scenes from Marvel Studios' Avengers: Infinity War and Doctor Strange in the Multiverse of Madness. The top story houses the museum of mystical collections, the middle section contains the library and at ground-level there are familiar features both inside and out.
A Sanctum Sanctorum modular? Yes please! This looks fantastic. Loads of detail, and nine minifigures including some Strange variants – the minifigures are Doctor Strange, Iron Man, Spider-Man, The Scarlet Witch, Wong, Ebony Maw, Master Mordo, Sinister Strange and Dead Strange. This will look excellent in the Modular street – two modulars in a year! Good stuff. I like the interchangeable portal panels in the back, one with Gargantos. So much detail!
40542 BrickHeadz FC Barcelona Go Brick Me
530 pieces | August 1, 2022 | 19.99 EUR / 19.99 USD / 17.99 GBP / 29.99 AUD / 24.99 CAD
Kids and fans of FC Barcelona will be thrilled to build a BrickHeadz™ model of themselves playing for one of the world's biggest football clubs! They can choose from 3 different skin tones, tan, light brown or dark brown; 4 different hair colors, blonde, brown, ginger, or black; and many different hair styles including spikes, ponytails, a mohawk or bald. The shirt features the club's iconic crest on the front, while there are also 2 sticker sheets for them to add their favorite number on the back.
75323 Star Wars The Justifier
1022 pieces | August 1, 2022 | 169.99 EUR / 169.99 USD / 249.99 AUD / 149.99 GBP / 199.99 CAD
Bounty hunter Cad Bane has imprisoned Omega on board The Justifier. This awesome starship has a super-detailed cockpit, spring-loaded shooters and cool flight and landing modes. Help Omega break out from the laser jail cell, with help from droid Todo 360, and team up with Hunter to get away. But there's a big bounty reward on her head, so Bane and Fennec Shand won't give up easily!
75337 Star Wars AT-TE Walker
1082 pieces | August 1, 2022 | 139.99 EUR / 139.99 USD / 229.99 AUD / 119.99 GBP / 179.99 CAD
Power into battle against the Separatist Droid Army, with the mighty AT-TE Walker! With Commander Cody in the cockpit, stride across rocky terrain and fire the rotating heavy blaster cannon. Grab weapons and thermal detonators from the cabin and deploy the 212th Clone Troopers to fight the Battle Droids on the ground. Who will triumph in the Battle of Utapau? It's up to you!
Not the first AT-TE we've seen in LEGO, it's actually the 5th now, after 4495, 7675, 75019 and 75157.
75574 Avatar Toruk Makto & Tree of Souls
1212 pieces | October 1, 2022 | 149.99 USD / 149.99 EUR / 129.99 GBP / 229.99 AUD / 179.99 CAD
Join Jake Sully, Neytiri, Mo'at and Tsu'Tey at the Tree of Souls! This LEGO® Avatar set reflects the scene where Jake joins with the majestic Toruk and becomes the 6th Toruk Makto. Dive into the intense effort to defend the important landmark of the Na'vi people, flying on the Toruk or riding the fierce Direhorse. Let the roots of the tree wrap around you and join the rest of the Na'vi as they commune together!
Just the one image for this one. It looks fantastic! The colours are stunning and I love that tree, but the long legs on the Na'vi are slightly off-putting. I know this is silly, but it doesn't look like LEGO. That Toruk though. Wow!
21189 Minecraft The Skeleton Dungeon
364 pieces | August 1, 2022 | 29.99 EUR / 34.99 USD / 24.99 GBP / 49.99 AUD / 44.99 CAD
Use your pickaxe to explore the stalagmites and stalactites of the dripstone cave. Be careful – there are 2 skeletons in the dungeon below! Push a stalagmite to make rocks crash down onto the hostile mobs. Then climb down the dripleaves in the lush cave to battle the skeletons with your crossbow. But watch out – a spin of the spawner causes another skeleton to appear, wearing enchanted armor!
I love seeing the Caves & Cliffs additions in here! Dripleaves, acacia bushes, dripstone, and my favourite – the spore blossom! The spawner looks great too.
21190 Minecraft The Abandoned Village
422 pieces | August 1, 2022 | 49.99 EUR / 44.99 USD / 79.99 AUD / 44.99 GBP / 49.99 CAD
Grab your sword, it's time to reclaim the abandoned village from the zombies! Battle the zombie villager at the blast furnace, seize the zombie farm and capture the abandoned house. Now you can rebuild the village in your own awesome style! Clear the cobwebs, combine the different buildings, and add furniture and tools for work. Finally, build a campfire – and plan your next adventure!
31207 Art Floral Art Set
2,870 pieces | August 1, 2022 | 69.99 EUR / 79.99 USD / 119.99 AUD / 59.99 GBP / 99.99 CAD
Open botanical creativity awaits in this LEGO® Art Floral Art (31207) wall kit. Bring bold colors and design possibilities into your home as you build. You can also let your imagination bloom with your own motif. Enjoy a zone of joyful zen filled with flowers, peace and stress relief as you click each piece into place.
Something a little different with the Art series! I quite like this. It's on it's way for an early review, so stay tuned.
Ok on to the two we're really all here for.
10497 Galaxy Explorer
1254 pieces | August 1, 2022 | $99.99 / £89.99 / €99.99 / 179.99 AUD / 129.99 CAD
Celebrate 90 years of LEGO® creations with this nostalgic building project for adults. This special anniversary edition of the Classic 497 LEGO Galaxy Explorer retains all the features of the 1979 set but on a bigger scale. Step back in time and enjoy a relaxing build, crafting all the details. With 4 astronaut figures and accessories, there's lots to explore in this tribute to a LEGO fan classic.
SPAAAACE! This looks absolutely fantastic! What a dream come true! Of course based on 497 Galaxy Explorer, this is the modernised version of it, with all of the brilliant links back to the original, pictured below.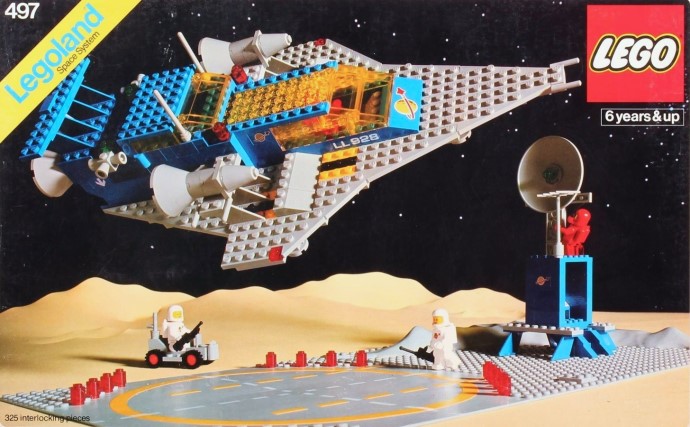 There's no baseplates included (presumably because people's heads may actually just explode with excitement), but oh my goodness this is brilliant. A childhood dream come true. It's also 1.5 times the size! With two classic Astronauts (two red and two white), this is superb.
10305 Lion Knight's Castle
4514 pieces | August 3, 2022 | $399.99 / £344.99 / €399.99 / 599.99 AUD / 449.99 CAD
It's the build adult LEGO® fans have been waiting for. A classic – reimagined. Celebrating 90 years of LEGO history, the Lion Knights' Castle is a new interpretation of the iconic LEGO Castle theme. The impressive set is packed with details, and with 4,514 pieces it offers a project to savor. So rekindle your childhood joy as you uncover the many stories and surprises packed into this model.
I actually screamed when I saw this. This is something else! It's nothing short of possibly the most spectacular set to come out in the last few years. Something of dreams! We've been saying for years we wanted Castle to come back, well it's BACK! The only thing missing is a goat. It can be closed in for a beautiful 360 degree display, or opened up to see the detailed interior. The drawbridge can be raised, and even someone playing with the iconic 375 Yellow Castle up top!
20 minifigures, including a return of Majisto, plus forestmen, Lion Knights, villagers, a queen, this is phenomenal. Multiple crested shields, two horses with glorious barding, the set has it all! There's even brilliant angles with the castle itself. It's not all right angles. My goodness.
A pretty decent LEGO Con for 2022 and I am SO excited for these releases. Bring them on! Who else will be saving their pennies for these ones?