I reckon we've had a pretty bumper year of sets this year. We've seen some really high quality offerings, and although they've been pricey, it's what happens when it's quality.
Sets like the Ford Mustang, The Upside Down, the Tree House, and even Welcome to Apocalypseburg! from way back in January, we've had some really strong sets.
The Mustang is still the perfect set in my opinion. There's also been some great Technic, with the Liebherr and the Land Rover Defender, plenty of other LEGO Ideas offerings, and a brand new theme this year in Hidden Side, which has had some really nice sets with a new approach.
What I want to know, however, is what your top five picks are for LEGO sets released in 2019? What are your top five favourites? I know mine, but I want to know yours. To help with this, I've created a form with a selection of 22 of the big name releases this year. Obviously I can't include every set as the list would be monumental, but this is a start. If one of yours is missing, suggest it in the form – there's an "Other" option.
Choose five (5) and let me know your top picks. I'll then collate the data and publish the results, as well as my top five picks.
Giveaway!
As a bit of an incentive, I'll also be giving away a copy of 70422 Shrimp Shack Attack to a random voter.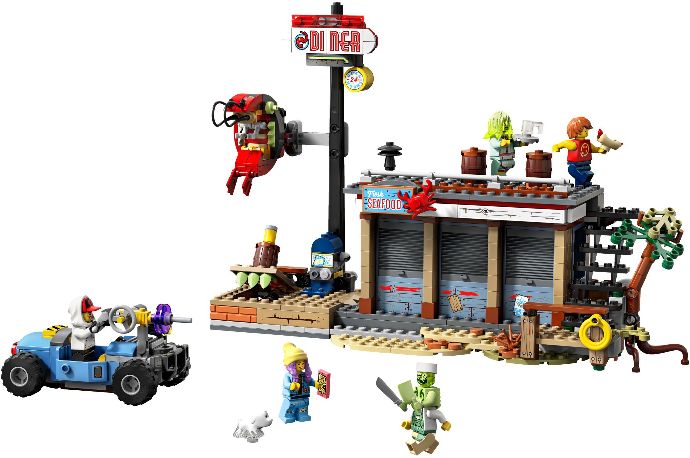 Here's what you need to do:
Complete the form below, choosing your five (5) top sets from 2019.
Also include your name, suburb and an email address. Please note that you have to live in Australia to be eligible to win the prize. If you don't live in Australia, I'd still love to see your votes!
Entries and votes close on Sunday, January 5th, 2020, at 11:59PM AWST. I'll get in touch with the winner in the days following. Full terms and conditions are below, as well as the entry form.
TERMS & CONDITIONS

1. Information on how to enter and prizes forms part of these Conditions of Entry.
2. Entry is open to all Australian residents who visit bricktasticblog.com during the promotional period. Entrants under the age of 18 must provide contact details for a Parent or Guardian over the age 18.
3. The Promoter reserves the right to verify the validity of entries and to disqualify any entrant who tampers with the entry process or who submits an entry that is not in accordance with these Conditions of Entry.
4. Limit one entry per person (based on email address and/or IP address).
5. No responsibility accepted for late, lost or misdirected entries.
6. During the promotional period BricktasticBlog may allow additional entries to be earned via Facebook or Twitter.
7. The promotion commences at the time of this post, on 12/12/2019 and closes at 11:59 AWST on 5/01/2020 ("the Promotional Period"). The promoter may in its absolute discretion end the promotion prior to the conclusion date.
8. Only entries submitted using the form at bricktasticblog.com will be accepted. Bonus entries earned will be added to the entrant pool by BricktasticBlog.
9. One winner will be chosen using computerised random selection.
10. The winners will receive one copy of 70422 Shrimp Shack Attack.
11. The prize pool consists of one copy of 70422 Shrimp Shack Attack .
12. The winner of the prize will be contacted via email in order to arrange delivery. If the winner cannot be contacted within 7 days of the close of the competition, then the winner will have forfeited the prize. If a prize cannot be delivered to the specified delivery address via standard post, then the winner of the prize is responsible for any additional delivery charges.
13. If the prize in not claimed within the 7 day period a redraw will occur.
14. The prizes are not transferable or exchangeable and cannot be taken as cash. No responsibility is accepted for any variation in the value of a prize.
15. The promoter of this competition is BricktasticBlog, and is conducted without the involvement of the LEGO Group of Companies.